Ronaldo Ends Messi's Four-Year Run as World's Best Soccer Player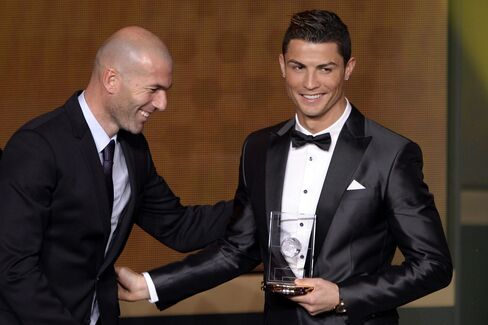 Cristiano Ronaldo ended Lionel Messi's unprecedented four-year run as the world's best soccer player by claiming the Ballon d'Or.
Real Madrid forward Ronaldo, who also won the accolade as a Manchester United player in 2008, finished ahead of Barcelona's Messi and Franck Ribery of European champion Bayern Munich, in voting for the event organized by governing body FIFA.
"It's a tremendously emotional moment," Ronaldo said after collecting the award accompanied by his son. "It's very difficult to win this award."
Ronaldo has averaged a goal a game for Real the past two seasons. The 28-year-old Portuguese scored three times in a playoff match in November as his country beat Sweden 3-2 to reach this year's World Cup.
"I have to say a great thanks to all my teammates at my club and at my national team," Ronaldo said as he tried to hold back tears. "I have to thank everybody who's been involved with me at a personal level as well -- my son, my friends."
Last year, Argentina international Messi became the first player to win the award four times. Zinedine Zidane and former Brazil striker Ronaldo won it three times.
Messi, 26, missed three of the past five months because of injuries. He has 16 goals in as many games this season and came off the substitutes' bench in his latest return last week to score twice in a 4-0 win against Getafe.
European Champion
In May, 30-year-old Frenchman Ribery helped Bayern Munich win the Champions League for the first time since 2001. Bayern beat Borussia Dortmund 2-1 after eliminating Barcelona 7-0 in a two-game semifinal. Bayern also won Germany's Bundesliga and the German cup last season.
Ronaldo finished with 1,365 points, Messi had 1,205 and Ribery got 1,127 in voting by national team coaches, captains and journalists.
Real Madrid President Florentino Perez in October wrote to FIFA President Sepp Blatter to object after Blatter said that Ronaldo was less personable than Messi and spent more on his coiffure.
Perez's letter said Blatter's comments at an address to students at the U.K.'s University of Oxford were unacceptable and might influence voters in the FIFA award. Blatter apologized.
The award for best women's player went to Germany goalkeeper Nadine Angerer. Brazil's Marta and last year's winner Abby Wambach of the U.S. were the other finalists.
Jupp Heynckes, formerly of Bayern Munich, was named men's coach of the year, with Silvia Neid of the German national squad receiving the women's accolade.
Three-time World Cup winner Pele of Brazil was given an honorary Ballon d'Or at yesterday's event at the Zurich Kongresshaus.
FIFA has organized a world player of the year award since 1991. In 2010, the ruling body merged the contest with France Football magazine's Ballon d'Or, or Golden Ball, which was first held in 1956.
Christopher Elser at celser@bloomberg.net