Christie Has Chances to Repair Image Amid Bridge Probe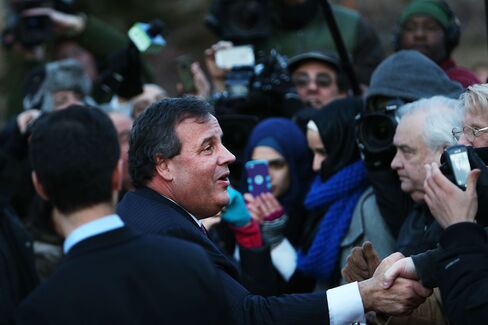 Jan. 13 (Bloomberg) -- Governor Chris Christie has several chances soon to repair a dented public image, from an agenda-setting New Jersey speech to a series of out-of-state Republican fundraisers to his own second-term inaugural bash beneath the Statue of Liberty.
Christie, though, a possible 2016 presidential contender, must balance pressure to disclose the scope of his administration's involvement in four days of traffic jams that e-mails suggest were politically motivated. Even elected colleagues nationally, who stand to benefit from his connections to such donors as Home Depot Inc. co-founder Ken Langone and billionaire money manager Stanley Druckenmiller, may not risk a public embrace before the full story is known.
"I imagine there are many back-channel conversations right now with politicians trying to distance themselves from him, and if they're not, they're out of their mind," Brigid Harrison, a Montclair State University politics professor, said yesterday. "Do you want to be associated with someone whose administration has been involved in such thuggery?"
Christie is a leading contender to shape a party that in one generation went from Ronald Reagan's triumphant "It's morning again in America" to a Congress paralyzed by the anti-government Tea Party faction, which championed spending shutdowns over bipartisan cooperation. Christie is popular with urban black leaders, who historically had supported Democrats, and with Latinos, a fast-growing population and emerging force in U.S. politics. The bridge affair could decide which faction is ascendant -- and perhaps the presidential race.
Christie's Tests
The governor faces several crucial moments. His annual State of the State address tomorrow will be followed Jan. 16 by a special session of the Democratic-led Assembly to consider extending its investigatory power into the September tie-ups at the George Washington Bridge, which connects Fort Lee and Manhattan. Federal prosecutors also are reviewing the matter.
On Jan. 18, as chairman of the Republican Governors Association, Christie is to appear at Florida fundraisers for several candidates, Susan Hepworth, a spokeswoman for the organization, confirmed by e-mail yesterday.
Three days later, the 51-year-old Christie will be sworn in to his second term followed by a party on Liberty Island, likely absent four casualties: Bridget Anne Kelly, a deputy chief of staff he fired after e-mails disclosed Jan. 8 showed she said it was "time for some traffic problems in Fort Lee" before officials shut lanes; Bill Stepien, the campaign manager with whom Christie cut ties last week; and Bill Baroni and David Wildstein, appointees who resigned last month from the Port Authority of New York and New Jersey, the bridge operator.
Maxima Culpa
In an almost two-hour news conference in his Trenton office Jan. 9, Christie apologized for his allies' involvement and said he had been betrayed. His eyes bloodshot and teary, he said he was sleepless, "embarrassed and humiliated."
As the investigations continue, Christie's chairmanship of the RGA will keep him visible nationally and crucial politically. The Washington-based group raised $23.5 million in the first half of 2013, almost double its Democratic counterpart, according to a news release. Three dozen governor's offices are subject to election this year.
Seeking Motive
Also eternally on view: Christie's unscripted tough-guy moments that are popular on Google Inc.'s YouTube -- a video record of name-calling and brash confrontations with politicians and the public that last week had Christie insisting he hadn't set an over-the-top tone for underlings and swearing he was no bully.
Yet retribution was in the air in his Trenton office, according to a cache of e-mails and text messages obtained by media including Bloomberg. In them, Fort Lee's Democratic mayor, Mark Sokolich, asked Port Authority officials whether the tie-ups were a punishment. Christie has said his ability to attract Democratic support is a lesson for federal politicians. Sokolich, however, hadn't followed dozens of others in his party in backing Christie for governor.
Lanes were closed for four days, turning the typical 30-minute drive across the bridge into a trip of four hours or more, stranding commuters and emergency medical crews. A 91-year-old woman who suffered cardiac arrest died later, according to a letter among Fort Lee officials.
'Unequivocally Apologetic'
Christie last week repeated what he told reporters in December: that he had no personal knowledge of the scheme. His handling of the crisis led Druckenmiller, 60, who once was a strategist for George Soros and now manages his Duquesne Family Office LLC, to praise Christie as a "once-in-a-generation" leader. Langone, in an e-mail Jan. 9 to Politico.com, called Christie "forthright, sincere, seriously embarrassed and unequivocally apologetic."
A CNN/ORC International poll last month showed him ahead of Democrat and former Secretary of State Hillary Clinton, 48 percent to 46 percent, in a hypothetical 2016 race.
The bridge affair dominated news programs yesterday. Former New York City Mayor Rudolph Giuliani, whose onetime spokeswoman, Maria Comella, is Christie's communications director, said the governor "put his political career at risk" if his denial of involvement proves false.
"He says he didn't realize; he says he didn't know," Giuliani said on ABC-TV's "This Week." "I think it's pretty darn credible -- he wouldn't make this blanket denial."
Unanswered Questions
On Jan. 9, an Assembly panel looking into the closings was stymied by Wildstein. Appearing under subpoena, he invoked his right to remain silent. Democrats the next day released computer files containing hundreds of pages of documents in the probe, which will continue after Christie's second term starts.
Assembly Speaker-elect Vincent Prieto, a Democrat from Secaucus, said he will call his chamber into special session Jan. 16 to consider reauthorizing subpoena power. Questions lawmakers want answers to include:
-- Why Christie, the former highest-ranking federal prosecutor in New Jersey, didn't press senior staff harder before the e-mails were made public.
-- Whether the governor's staff acted on behalf of his campaign, contrary to election law.
-- What other revelations may be in material blacked out from the print-outs of e-mails and text messages that Wildstein provided.
No Pushovers
Christie could possibly be impeached if lawmakers discover that he knew about the traffic jam or of the effort to cover it up, state Assemblyman John Wisniewski, chairman of the panel investigating the traffic controversy, told NBC News.
The case means that Democrats may be less likely to accede to Christie's economic agenda, said Howard Cure, director of municipal research in New York at Evercore Wealth Management LLC, which oversees about $4.9 billion.
"Things are going to be scrutinized more from his legislation and budget than ever before," he said. "There's pressure on the Democratic Party in New Jersey to not necessarily cooperate with him on every issue."
The economy is "fairly weak," Cure said. The November unemployment rate was 7.8 percent, higher than neighboring states, according to U.S. Census data. Gross domestic product rose 1.3 percent in 2012, ranking 37th among states, according to the U.S. Department of Commerce Bureau of Economic Analysis.
Residents also are continuing to recover from Hurricane Sandy, the October 2012 storm that propelled Christie to record public approval for his leadership. He burnished his bipartisan credentials with praise and a hug for a visiting Democratic President Barack Obama as he abandoned campaigning for Republican challenger Mitt Romney.
Now, Christie has lost control of events, said Julian Zelizer, a Princeton University professor of history and public affairs.
"Democrats in the state were prepared to cause trouble for him before this broke," Zelizer said. "They can make him focus on this rather than anything else he wants to accomplish. If the story continues, it's going to be very useful to the Democrats."
To contact the reporter on this story: Elise Young in Trenton at eyoung30@bloomberg.net
To contact the editor responsible for this story: Stephen Merelman at smerelman@bloomberg.net