VW Said to Favor Tennessee Factory to Build New U.S. SUV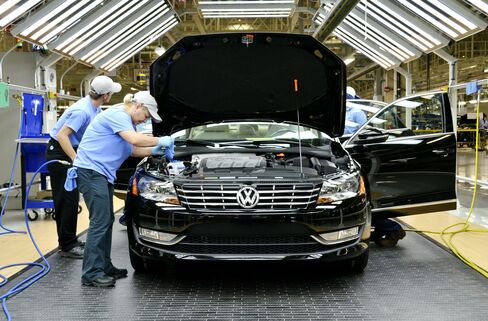 Volkswagen AG, Europe's largest carmaker, will add a mid-sized sport-utility vehicle in the U.S. and probably produce it in Chattanooga, Tennessee, two people familiar with the matter said.
The Chattanooga factory is favored over VW's plant in Puebla, Mexico, to build the SUV for North American customers, said the people, who asked not to be identified speaking in advance of an official announcement. Any decision will be part of a wider move to sell the model in other markets, such as the Middle East or China, though the version sold in that country would probably be produced locally, one person said.
VW has expanded to become the world's third-biggest auto manufacturer, ranking behind Toyota Motor Corp. and General Motors Co., thanks to sales increases in countries such as China and Russia. Those gains contrast with a struggle to raise the Wolfsburg, Germany-based carmaker's presence in the U.S., a market that's crucial to the company's goal of taking the global industry sales lead by 2018. Carsten Krebs, a spokesman for VW's U.S. operations, declined to comment.
"Entering the mid-sized SUV segment would be a critical step for VW's planned expansion in the U.S.," Daniel Schwarz, a Frankfurt-based analyst at Commerzbank AG said by phone. "Producing the vehicle in Chattanooga would help VW balance capacity utilization for this plant, which so far only relies on the Passat model." Schwarz recommends buying VW shares.
Chattanooga Capacity
The $1 billion factory in Chattanooga started operating in 2011, building a cheaper, bigger version of Volkswagen's mid-sized Passat sedan targeted at American customers. The plant has capacity to produce about 150,000 vehicles a year. The model's U.S. sales last year fell 6.3 percent to 109,652 cars. The Chattanooga site could be ramped up to 250,000 vehicles annually should VW assign it to make the SUV, one of the people said.
Volkswagen rose 1.3 percent to 202.05 euros, the highest price this year, at the close in Frankfurt. The stock has gained 17 percent in the past 12 months, valuing the company at 91.8 billion euros ($125.4 billion).
Unlike Volkswagen's luxury Audi and Porsche nameplates, the mass-market VW brand failed to grow in the U.S. last year. Deliveries by the VW marque in the country fell 6.9 percent in 2013 to 407,704 cars and SUVs, with demand plunging 23 percent in December. That's about half the 800,000 yearly vehicle sales targeted for the market by 2018. The brand's global deliveries rose 3.4 percent last year to 5.93 million autos, VW said today.
U.S. Chief
The manufacturer named Michael Horn in December to become head of the VW nameplate's U.S. business at the beginning 2014, replacing Jonathan Browning in the post after a little more than three years.
SUVs and crossover vehicles widened their share of the U.S. car market in 2013 to 30.9 percent from 29.7 percent a year earlier, according to Autodata Corp. research company. Volkswagen's SUV offerings in the country are currently limited to the compact Tiguan and the mid-sized Touareg, which at $43,995 is priced 11 percent more than the premium Lexus RX from Toyota.
Volkswagen displayed a prototype of an SUV, dubbed the Crossblue, a year ago at the Detroit auto show, positioning the vehicle between its two existing models in the segment to compete with Ford Motor Co.'s Explorer and Toyota's Highlander.
Based on typical development times, an SUV derived from the Crossblue probably wouldn't reach showrooms before 2016. That would be five years after Browning brought out a bigger, cheaper version of VW's mid-sized Passat sedan designed to appeal to mainstream American drivers.
Reuters reported news of the U.S. SUV site choice earlier today.
Before it's here, it's on the Bloomberg Terminal.
LEARN MORE