Son of China's Ex-Security Chief Zhou May Face Trial, SCMP Says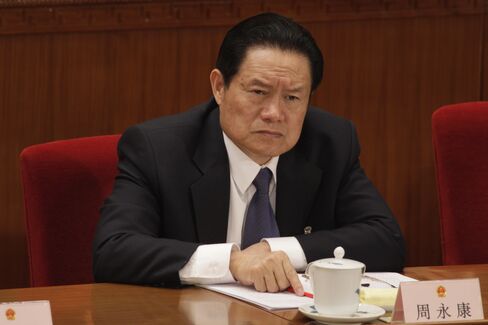 Jan. 10 (Bloomberg) -- The elder son of Zhou Yongkang, China's retired security chief, has been formally detained and is seeking lawyers, the South China Morning Post said, citing three people with knowledge of the matter it didn't identify.
Zhou Bin, 41, has been under formal detention since December and his trial could begin soon, according to the report. He was allegedly involved in illegal dealings in Sichuan province and in the oil industry, where his father worked before becoming a member of the Communist Party's Politburo Standing Committee, the Hong Kong-based newspaper said.
Communist Party leaders agreed in August to investigate Zhou Yongkang on allegations of economic and social crimes, the SCMP said. A trial against Zhou Bin would mark a major step forward in the probe against his father, who retired from the Politburo Standing Committee in 2012.
Calls to the publicity department of the Communist Party's Central Committee and the news department of the State Council Information Office weren't immediately answered today.
Zhou Bin has contacted several lawyers through an intermediary although a final appointment has yet to be made, the SCMP said, citing an unidentified source. Giving Zhou access to lawyers means he is likely to be brought before a court and his trial could begin soon, another person said.
A probe of Zhou Yongkang would be the first against a sitting or retired member of the Politburo Standing Committee since the Cultural Revolution that ended in 1976, according to the SCMP. The team investigating him reports directly to President Xi Jinping and has recruited 10 more high level police officers in Beijing to speed up interrogations, the newspaper said, citing a person familiar with the situation.
On Jan. 2, authorities dismissed Li Chongxi, an official from Sichuan who worked under Zhou Yongkang when he was party secretary of the province. China's anti-corruption watchdog is also investigating executives of state-run China National Petroleum Corp., which Zhou Yongkang headed in the 1990s.
To contact Bloomberg News staff for this story: Nicholas Wadhams in Beijing at nwadhams@bloomberg.net
To contact the editor responsible for this story: John Liu at jliu42@bloomberg.net