Senator Levin Backs U.S. Arms to Iraq to Stem Conflict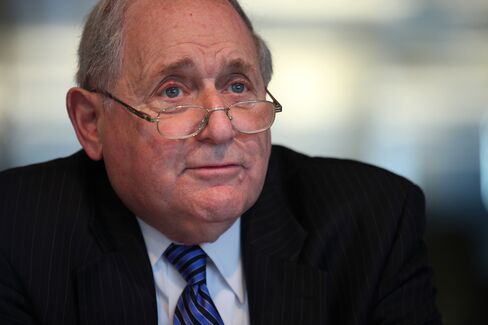 Jan. 9 (Bloomberg) -- Senate Armed Services Committee Chairman Carl Levin said today he supports providing U.S. military aid, including attack helicopters, to Iraq's government to stem increasing violence if the weapons provided aren't used to further stoke sectarian rifts.
"The question is whether the Maliki government would use them only against violent extremists, and whether we receive credible assurances that such weapons will be used to target Iraq's real enemies, and not to further sectarian political objectives," the Michigan Democrat said in prepared floor remarks sent by his office.
The capture of Fallujah and portions of Ramadi in Iraq by Sunni Islamist militants threatens the gains made against terrorists linked to al-Qaeda even after President Barack Obama withdrew American forces from the country in 2011.
Obama withdrew the forces after negotiations with Iraqi Prime Minister Nouri al-Maliki broke down over a "status of forces" agreement that would have allowed the U.S. military to maintain a presence in the country. Maliki's government is Shiite-dominated, and the Sunni minority accuses it of fueling tensions.
The Obama administration has said it will expedite military assistance, including unmanned aerial vehicles, Hellfire missiles and stepped-up intelligence sharing. White House officials have ruled out sending ground forces.
In the House, Speaker John Boehner called on Obama to "get engaged" on Iraq.
Explaining Terrorists
"The administration has chosen to spend much of its time and energy trying to explain why having terrorists holding key terrain in the Middle East is not the president's problem," Boehner told reporters.
The Ohio Republican said he supported providing equipment and aid to the Iraq government. As for sending back U.S. troops, Boehner said he didn't think "that is called for at this point in time."
Senate Majority Leader Harry Reid defended Obama, saying it took "a lot of gall" on Boehner's part to blame the violence in Fallujah on the president.
Defense Secretary Chuck Hagel today defended the Obama administration's withdrawal of U.S. troops from Iraq, while pledging to continue supporting the Iraqi government.
"The intent was never to stay forever and defend the country forever," Hagel said during a tour of the Brooke Army Medical Center in San Antonio, Texas, according to a transcript. "I think in Iraq's case that after eight years we did accomplish what we set out to do."
Asked by a reporter whether U.S. soldiers died in vain defending Fallujah and Ramadi, Hagel said they didn't and added, "These threats are everywhere, and Iraq is going to handle it. And we're going to continue to help them and support them. We're not walking away from that alliance."
To contact the reporter on this story: Roxana Tiron in Washington at rtiron@bloomberg.net
To contact the editor responsible for this story: Katherine Rizzo at krizzo5@bloomberg.net