Puerto Rico Revenue Beating Budget by $80 Million in Fiscal '14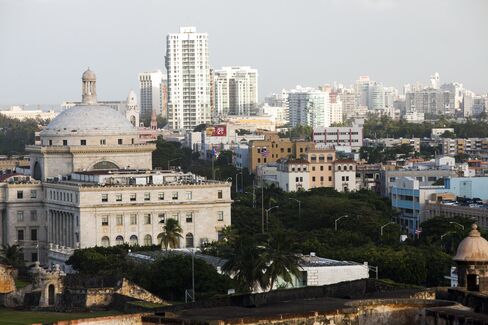 Puerto Rico's preliminary revenue collections for the first six months of fiscal 2014 were $80 million above budgeted estimates as the commonwealth tries to avert a possible downgrade to junk.
Higher corporate tax rates boosted revenue from July through December, Treasury Secretary Melba Acosta said in a statement today. December's tally of $913 million was the most ever for the month.
"We can see the positive results of new tax legislation and administrative efforts," Acosta said.
The U.S. territory of about 3.6 million people has the lowest investment-grade rank from the major rating companies, with a negative outlook. Moody's Investors Service on Dec. 11 threatened to cut Puerto Rico to speculative grade within 90 days if the island's finances kept deteriorating and the territory wasn't able to sell debt through the capital markets.
"It's a good sign that the tax base is absorbing the tax increases, but there's still a ways to go," Lisa Heller, a Moody's analyst, said in an interview today.
Puerto Rico's fiscal health affects the $3.7 trillion municipal-bond market because more than three-quarters of U.S. local-debt mutual funds hold the securities. The commonwealth's debt is tax-exempt nationwide.
Contracting Economy
An index that tracks the island's economic activity contracted in November by 5.7 percent compared with the same month in 2012, the steepest annual decline since January 2010, according to the Government Development Bank, which works on the commonwealth's capital-markets transactions.
Puerto Rico plans to sell long-term debt this month or in February, after rising interest rates last quarter blocked borrowing plans.
Puerto Rico sales-tax bonds maturing in August 2039 and rated four steps below benchmark munis traded this week with an average yield as high as 9.4 percent, a record, data compiled by Bloomberg show.
Officials have also kept spending below budgeted estimates. For July through November, expenses were $135 million below appropriations, according to Carlos Rivas, director of the Office of Management and Budget.