Dr. Doom's Upbeat Prognosis
Nouriel Roubini's forecasts for 2014 are uncharacteristically rosy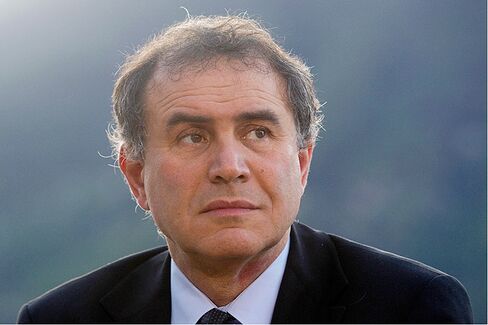 Nouriel Roubini, the New York University economist who earned the nickname Dr. Doom with his early predictions that the housing slump would trigger an economic collapse, is trying on a smile as he looks to the coming year. In his outlook for 2014, which he laid out in a Dec. 31 piece on the website Project Syndicate, Roubini says the risk of unexpected shocks is becoming "less salient" as growth in industrialized countries accelerates to just under 2 percent. That number is close to the 2.2 percent expansion forecast by economists at Goldman Sachs and Deutsche Bank.
The contrarian, who stayed bearish for most of the recovery, is optimistic about U.S. markets, predicting that "the Federal Reserve's exit from quantitative easing will be slow, keeping interest rates low." Emerging markets aren't looking half bad either: Roubini pegs their growth at about 5 percent this year, with the twin forces of urbanization and industrialization as key drivers. That forecast is in line with International Monetary Fund estimates, suggesting that the outlier economist is reverting to the mean. Roubini declined to be interviewed for this story.
His predictions have been less on target since he warned on his blog in early 2007 that "the party will soon be over." At the World Economic Forum in Davos, Switzerland, in January 2009, he said, "I'll be the first to call a recovery, but I just don't see it yet, and it's getting uglier." He got that one wrong: The U.S. emerged from recession that June.
Roubini was off the mark again last March, when he forecast a market correction in the second half of 2013. There wasn't one, and the Standard & Poor's 500-stock index registered a 30 percent return for the year. In June, as investors were fretting about the timing of the Fed's stimulus taper, he warned in Institutional Investor magazine that the U.S. central bank's exit would be "treacherous" and would foment financial instability. He tempered that dire warning three months later, when he said the U.S. would close 2013 in a better position than most developed economies, leading to a stronger dollar and a soft landing for bonds. So far it looks like his second prognostication was right.
"History tells us to avoid the future forecasts of any seer who lands a major outlier," says wealth manager Barry Ritholtz, a Bloomberg View columnist. "Subsequent predictions tend to be even worse than the crowd's. There are a slew of one-trick ponies out there." Elaine Garzarelli, then of Shearson Lehman Brothers, predicted the stock market crash of 1987 and subsequently faded from the limelight. Analyst Meredith Whitney got it right in 2007 when she anticipated that losses on toxic mortgages would force Citigroup to cut its dividend, yet the municipal bond apocalypse she warned about in a 60 Minutes interview in 2010 hasn't come to pass.
In his latest turnabout, the normally grim Roubini hasn't completely gone over to the bright side. "Some emerging markets," he wrote in his Dec. 31 piece, "will remain fragile in 2014, owing to large external and fiscal deficits, slowing growth, below-target inflation, and election-related political tensions." And while Roubini discounts the likelihood of a hard landing in China this year, he thinks medium-term prospects for the world's No. 2 economy are "worrisome."
Before it's here, it's on the Bloomberg Terminal.
LEARN MORE