George Concerned Fed Guidance Commits to Low Rates for Too Long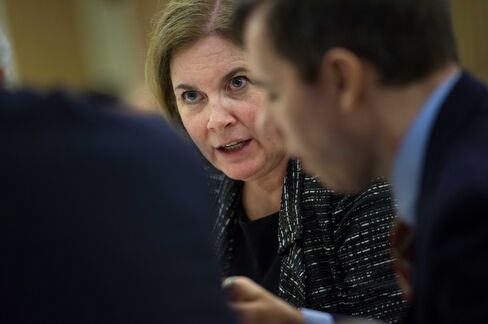 Federal Reserve Bank of Kansas City President Esther George, who dissented against unprecedented stimulus in seven policy meetings last year, voiced concern the Fed may keep the main interest rate too low for too long.
"I fear we may wait too long to move rates," George said in response to a reporter's question after a speech today in Madison, Wisconsin. She doesn't vote on policy this year.
The Federal Open Market Committee said in a Dec. 18 statement it will probably hold the target interest rate near zero "well past the time that the unemployment rate declines below 6.5 percent." Policy makers also decided to taper Fed bond purchases by $10 billion to $75 billion.
While endorsing the statement, George said today she was uncomfortable with the interest-rate pledge. "I'm very cautious about this idea of making future statements, which we refer to as forward guidance, because I think we do have to see how the economy unfolds and we cannot wait too long to make decisions."
Fed Chairman Ben S. Bernanke led the FOMC last year in monthly bond buying of $85 billion. George voted against the purchases in the first seven FOMC meetings of the year before December.
George said she backed the Dec. 18 statement "in the context of beginning to" trim bond buying. In a speech today before the Wisconsin Bankers Association she said she remains concerned the Fed's policies are too stimulative.
"Monetary policy is likely to remain highly accommodative for some time with additional (albeit reduced) asset purchases under the current program and an extended period of low interest rates," she said. "I remain concerned about the potential costs and consequences of these untested policies."
George opposed the FOMC's Oct. 30 policy decision because she was "concerned that the continued high level of monetary accommodation increased the risks of future economic and financial imbalances and, over time, could cause an increase in long-term inflation expectations," according to the FOMC statement released that day.
Before it's here, it's on the Bloomberg Terminal.
LEARN MORE