Cohen's SAC Gains More Than $200 Million on Intercept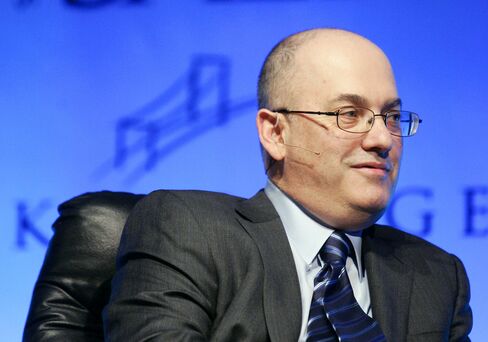 Jan. 9 (Bloomberg) -- Steven Cohen's SAC Capital Advisors LP, which is shutting down its investment advisory business after pleading guilty to securities fraud, was among the biggest winners today as shares of Intercept Pharmaceuticals Inc. almost quadrupled following a successful drug trial.
The hedge fund owned almost 1 million Intercept shares as of Nov. 7, translating to a gain of more than $200 million if the stake is unchanged, according to data compiled by Bloomberg. Other winners of the Intercept rally include Fidelity, the second-biggest U.S. mutual fund manager, and OrbiMed Advisors LLC.
Intercept said today that a trial of its liver disease drug worked well enough for the testing to be stopped. Shares in the company had rallied 54 percent in the six months through yesterday as investors bought the stock in anticipation of a positive result. Biotechnology and pharmaceutical companies can post big gains or losses depending on trial outcomes, making them a popular target for investors seeking quick profits.
"When a biotech stock goes from promise to product, investor expectations just skyrocket," Daniel Wiener, chief executive officer of Newton, Massachusetts-based Adviser Investments, said in a telephone interview. Wiener helps oversee $3 billion.
Intercept, which is based in New York, soared 281 percent to close at $275.87, its largest-ever increase. Trading volume climbed to a record 6.8 million shares, more than 30 times the three-month average.
Beating Twitter
No stock in the Russell 3000 Index with a market value of at least $5 billion has gained that much on a single day since at least the end of October. The average of the biggest daily gains during that period was about 15 percent and Intercept's move is almost 20 times that. The only time any stock has come close during that period was when Twitter Inc. soared 73 percent on its first day of trading.
SAC, based in Stamford, Connecticut, first bought Intercept during the second quarter, with filings showing a stake of 125,000 shares as of June 30. It raised its holding to 601,100 shares by the end of the third quarter and owned 988,097 shares, or 5.1 percent, according to a Nov. 7 filing.
The firm in November agreed to pay a record $1.8 billion and shutter its investment advisory business to settle allegations of insider trading. Mathew Martoma, a former money manager at SAC, is on trial facing government allegations of using illegal inside information to trade two health-care stocks, Wyeth and Elan Corp. Trading in the shares resulted in gains for SAC of $276 million, the government has said.
Fidelity's Gain
Jonathan Gasthalter, a spokesman for SAC, declined to comment on the Intercept position in an e-mail.
Fidelity, which is based in Boston, saw the value of its 2.4 million shares climb by more than $480 million. Fidelity owned 12 percent of Intercept as of Sept. 30, according to data compiled by Bloomberg. More than half of Fidelity's stake was in the $8 billion Fidelity Select Biotechnology Portfolio managed by Rajiv Kaul. The fund returned 60 percent in the year ended Jan. 8.
OrbiMed, a New York-based firm that invests exclusively in health care, had a gain of more than $350 million. The firm, which manages about $9 billion in public and private investments worldwide, according to its website, owned 9 percent of Intercept as of Nov. 9. Samuel Isaly, OrbiMed's co-founder, is also the lead manager of the $1.3 billion Eaton Vance Worldwide Health Sciences Fund, which gained 43 percent in the past year.
Representatives for Fidelity and OrbiMed didn't respond to an e-mail and phone call seeking comment.
To contact the reporter on this story: Charles Stein in Boston at cstein4@bloomberg.net
To contact the editor responsible for this story: Christian Baumgaertel at cbaumgaertel@bloomberg.net