China Tells Banks to Improve Disclosures in Shadow-Lending Fight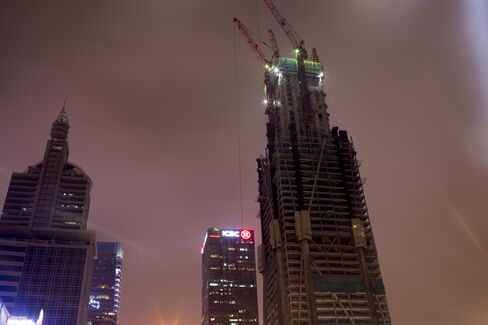 China's banking regulator told lenders to publish data including off-balance-sheet assets and interbank liabilities as the government steps up scrutiny of the shadow-finance industry.
Lenders with total assets of 1.6 trillion yuan ($264 billion) or more must publish 12 indicators within four months of the end of each financial year, the China Banking Regulatory Commission said in a statement yesterday. The requirement is in line with rules published by the Basel Committee on international banking regulation in July, the CBRC said.
China's State Council imposed new controls on the shadow-banking industry with an order that targets off-the-books loans and shores up enforcement of current rules, three people familiar with the matter said this week. The Cabinet order highlights concern that lending outside the banking system, estimated by JPMorgan Chase & Co. at 36 trillion yuan, or 69 percent of 2012 gross domestic product, may threaten the financial system's stability.
The CBRC requirement will apply to at least 12 of the 19 Chinese banks whose shares are publicly traded, data compiled by Bloomberg show. The indicators, which include data on derivatives and cross-border assets and liabilities, are intended to show the importance of individual banks to the global financial system, not as an assessment of their management capabilities or risk levels, the CBRC said.
Industrial & Commercial Bank of China Ltd., the nation's largest bank by assets, was added to the Basel Committee's list of global systemically important banks last year, joining smaller competitor Bank of China Ltd., which has been on the list since 2011.
— With assistance by Aipeng Soo
Before it's here, it's on the Bloomberg Terminal.
LEARN MORE