Antarctic Penguins Adapting to Warmer Temperatures: Study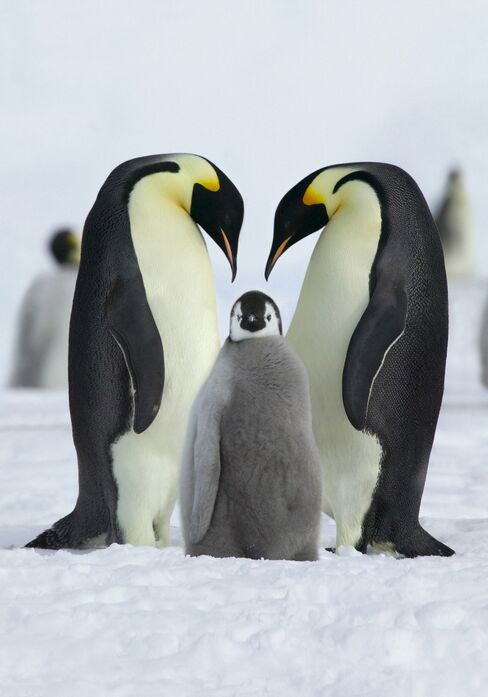 Antarctic emperor penguins have been able to shift their breeding grounds above ice cliffs as high as 30 meters (100 feet), suggesting they're more resilient to a warming climate than previously thought, according to a study.
Penguins in four colonies bred during 2008, 2009, and 2010 on sea ice, their preferred terrain because it's easier to reach the fish they eat, according to a paper in the journal PLOS ONE. In 2011 and 2012, years when the sea ice formed only after the birds' breeding season had begun, the penguins moved to the ice shelf, where continental ice floats out over the sea.
"What's particularly surprising is that climbing up the sides of a floating ice shelf, which at this site can be up to 30 meters high, is a very difficult maneuver for emperor penguins," Peter Fretwell, the lead author and a scientist at the British Antarctic Survey, said in an e-mailed statement.
The finding is significant because it shows the emperor penguin is capable of adapting from year-to-year to cope with changing conditions, according to the statement. That means it may be more resilient against the effects of global warming.
The International Union for Conservation of Nature in 2012 raised an assessment of the danger faced to "near-threatened" on its Red List of endangered species as the birds may "undergo a moderately rapid population decline over the next three generations owing to the effects of projected climate change."
"The ability of these four colonies to relocate to a different environment from sea ice to ice shelf in order to cope with local circumstances was totally unexpected," said Barbara Wienecke, an Australian Antarctic Division researcher. "These new findings are an important step forward in helping us understand what the future may hold for these animals." Scientists can't assume such behavior is widespread, she said.
The research was carried out by the Cambridge, England-based British Antarctic Survey, the Australian Antarctic Division in Kingston, Tasmania, and the Scripps Institution of Oceanography at University of California - San Diego.
Before it's here, it's on the Bloomberg Terminal.
LEARN MORE