Swedish Premier Drops Stimulus Predicting Stronger Growth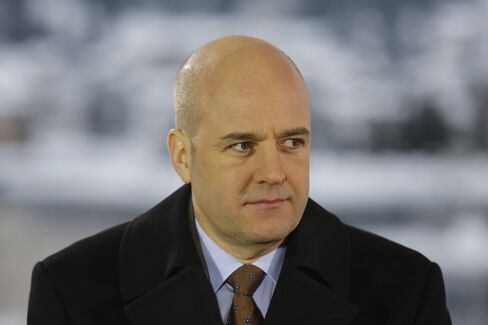 Jan. 9 (Bloomberg) -- Prime Minister Fredrik Reinfeldt said Sweden's economy won't need more government help and predicted the recovery has become self-sustaining as he seeks to win a third term in office this year.
"Optimism is spreading, for example in the services sector," the 48-year-old said yesterday in an interview in Stockholm. "If we can show that we've implemented reforms that have created jobs and also had an ability to lead Sweden through a difficult crisis, and that we emerge stronger than other countries, then I think people have an ability to value that."
Instead of acting as a prop for growth, policy will now seek to reverse Sweden's budget shortfall, Reinfeldt said.
The nation's public finances slipped into deficit in 2012 and will stay in the red through 2015, when Sweden will post a 0.5 percent gap relative to gross domestic product, the European Commission said in November. Reinfeldt, whose coalition government faces elections in September, has in part lost voter support by pushing through tax cuts that have alienated Swedes concerned such measures will erode state-funded welfare.
Reinfeldt argues that the policy has helped create jobs and turned Sweden into one of Europe's strongest economies. GDP will expand 2.8 percent this year, compared with 1.1 percent in the euro area, the EU commission estimates. Unemployment was 8 percent in November, versus a crisis peak of 9.3 percent in April 2010.
The krona was little changed at 8.9289 per euro as of 10:48 a.m. in Stockholm. It has slid 4 percent over the past 12 months.
Limited Room
"We must return Sweden to balance and surplus when resource utilization possibly rises, so that will be our focus," Reinfeldt said. "We're seeing very limited additional room for reforms."
Sweden, which relies on exports for half its economic output, is recovering as Europe and the U.S. emerge from their crises, helping support trade. International Monetary Fund Managing Director Christine Lagarde said this week the IMF will raise its forecast for world growth, underscoring confidence in the global recovery as the outlook for the U.S. improves.
Reinfeldt has steered AAA-rated Sweden through the global financial crisis, keeping public debt at less than half Europe's average ratio while providing citizens with free health care and education.
He's cut income taxes five times since gaining power in 2006 and proposed total support measures equivalent to 0.7 percent of GDP in 2014.
Losing Voters
The approach has failed to win over voters, who have grown disillusioned with Reinfeldt's tax cutting regime and are instead turning to the welfare services outlined by the resurgent Social Democrat-led opposition.
An average of polls by Novus for Swedish Radio released on Dec. 26 showed the Social Democrats and their allies would win 50.5 percent of votes, compared with 38.8 percent for Reinfeldt's coalition.
Reinfeldt's government cut its growth forecasts last month, predicting that the $540 billion economy will expand 2.4 percent in 2014. The Finance Ministry's official forecasts show Sweden won't achieve a budget surplus target of 1 percent of GDP until 2017.
Nobel laureate Paul Krugman says Sweden can thank its welfare system for riding out the crisis.
Scandinavian "economies have ridden out the crisis pretty well, Sweden, with an independent currency, has been the best case," Krugman said in an interview in Oslo yesterday. "For people who like to claim that the welfare state was the source of the crisis, you can look at Sweden."
To contact the reporter on this story: Johan Carlstrom in Stockholm at jcarlstrom@bloomberg.net
To contact the editor responsible for this story: Jonas Bergman at jbergman@bloomberg.net