South Sudan Peace Talks Bog Down Over Detention of Politicians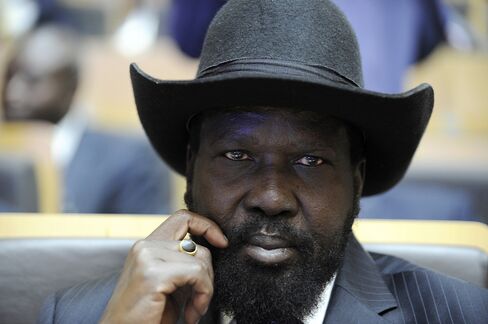 Efforts to end South Sudan's three-week-old conflict reached an impasse after the rebels dismissed a government proposal to move the talks from Ethiopia to Juba and demanded the release of detained politicians.
President Salva Kiir's government said shifting negotiations to the South Sudanese capital would allow the detainees to take part, Ateny Wek Ateny, Kiir's press secretary, said in a phone interview yesterday. East African mediators, as well as the U.S., the U.K. and the European Union, have called for the 11 politicians to be freed.
The rebels' chief negotiator, Taban Deng Gai, called Juba a "big prison" in dismissing the proposal. "We don't want to increase our numbers in prison," he told reporters in Addis Ababa, the Ethiopian capital.
The impasse occurred as three mediators from the Intergovernmental Authority on Development or IGAD, a group of East African nations, met Kiir in Juba and urged authorities to free the prisoners. They were detained without charge after fighting erupted on Dec. 15 between forces loyal to Kiir and his former vice president, Riek Machar. Violence in the world's newest nation has killed thousands of people and forced 201,000 more to flee their homes, according to the United Nations.
The East African mediators came "to plead with the president again for the release of detainees, but the president told them that 'this thing is not in my hands'," Ateny said in a phone interview yesterday. "It will require these people to be investigated first."
Detainee Support
IGAD said in an e-mailed statement late yesterday that it held talks with the detainees during a "fruitful" two-day visit to Juba. It said there are signs of "major progress" in the search for a cease-fire, and that political prisoners interviewed by the IGAD delegation expressed support for the continuation of peace talks regardless of their own status.
South Sudan gained independence from Sudan in July 2011 following a two-decade civil war. It has sub-Saharan Africa's largest oil reserves after Nigeria and Angola, according to BP Plc data. It has been exporting all of its crude -- about 245,000 barrels a day -- through pipelines across Sudan. The fighting has cut output to about 200,000 barrels daily. Oil exports provide more than 95 percent of government revenue.
Some oil companies including China National Petroleum Corp. and India's Oil & Natural Gas Corp. have temporarily evacuated employees from South Sudan.
'Part of Problem'
The detainees include Pagan Amum, former secretary-general of the ruling Sudan People's Liberation Movement, Deng Alor, ex-minister of cabinet affairs, and former head of national security, Madut Biar.
"These people being in jail is part of the problem," rebel spokesman Mabior Garang told reporters in Addis Ababa, adding that if they were freed they would join the peace effort. "They've been in jail for a long time without charge. That is a violation of their civil rights and liberty so they should be released."
The conflict started after Kiir accused Machar of trying to stage a coup, a charge Machar denies. The violence has sparked clashes between members of Kiir's ethnic Dinka community and Machar's Nuer group.
The rebels have ceased attacks on government positions "because we're giving the peace process a chance," spokesman Brigadier General Lul Ruai Koang told reporters in Addis Ababa.
The insurgents control areas including Jebel Kujur, 7 kilometers (4 miles) west of Juba, and the eastern town of Bor, he said.
Uganda Call
"In the immediate future, the areas we are controlling, we are holding them," Koang said.
Gai also accused the army from neighboring Uganda of mounting "an invasion" in support of Kiir's government and urged the IGAD countries to demand its withdrawal.
"They are bombing us," he said. "They are fighting us on the ground; they are coming with a big weight."
About 23,546 refugees crossed into Uganda since the start of the fighting, the UN Nations Refugee Agency said on its website on Jan. 7.
Uganda will keep its troops in South Sudan until the fighting ends, the Kampala-based Daily Monitor newspaper reported on Jan. 7, citing government spokesman Ofwono Opondo.