Pollution Costs to Rise as EU Governments Back Market Fix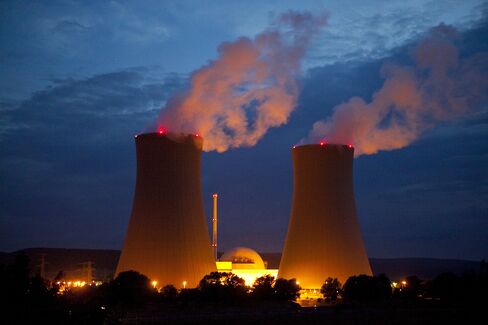 Carbon prices are poised to rebound from a three-year slump as European Union member states backed a stopgap plan to reduce a record glut of pollution permits.
The cost of emitting carbon dioxide will jump to 7.75 euros ($10.54) a metric ton by the end of the year, from today's close of 4.65 euros, according to the median of nine analyst and trader estimates compiled by Bloomberg News. Representatives of the EU's 28 governments cast their final vote today in favor of the plan known as backloading that would temporarily cut the number of permits by half of the annual supply for the 12,000 power plants and factories in the trading system.
The benchmark contract in Europe's $52 billion market fell 65 percent in the past three years as contracting economies curbed demand for permits. Cheaper carbon eroded the incentive to burn less fossil fuels and invest in renewable energy. Higher prices may boost costs for Essen, Germany-based RWE AG, which burns coal to generate as much as 48 percent of its power output, while aiding nuclear-power generators including Electricite de France SA and Fortum Oyj.
"At current carbon prices nobody is incentivized to make investments to cut emissions," said Matteo Mazzoni, an analyst at Bologna, Italy-based Nomisma Energia srl, a consultant which advises energy companies, governments and banks. "Four euros is useless as a price signal."
Survey Result
Estimates in the Bloomberg News survey ranged from 5 euros to 11 euros, a level last seen in March 2012. The contracts almost doubled since reaching a record low of 2.46 euros in April as lawmakers reached a compromise on the rescue plan, known as backloading. Allowances for December fell as much as 2.7 percent to 4.63 euros, the lowest since Dec. 5, on the ICE Futures Europe exchange in London today.
"Backloading is now a reality, and the commission hopes that the first allowances can be backloaded very soon," said EU Climate Commissioner Connie Hedegaard in Brussels, who proposed the rescue plan almost two years ago.
Under the measure approved today, the EU will delay the sale of 900 million permits in 2014-16 and return them to the market at the end of the decade. The glut probably widened to a record 2.2 billion permits last year, according to Bloomberg New Energy Finance.
Under the EU's nine-year-old emissions-trading system, permits are allocated for free or auctioned to emitters ranging from Royal Dutch Shell Plc to ThyssenKrupp AG to EON SE, Germany's biggest utility. Every April, factories and utilities must surrender allowances matching their pollution in the previous year or pay a fine.
Strong Cut
"The strong cut in auction volumes must be made up by factories selling their surplus permits," said Jan Frommeyer, the managing director of Tschach Solutions GmbH, a Karlsruhe, Germany-based consultant that advises utilities and banks, and who predicts 11 euros by the end of December. "To encourage those sales, prices must rise considerably."
Today's vote by the Climate Change Committee won member states' backing to peg the amount of permits withheld this year to when the curbs on auctions begin. The start date isn't set because the measure must still be scrutinized by the European Parliament and the EU Council, which represents the bloc's governments. Hedegaard has asked the two institutions to shorten the three-month evaluation period.
"How much shorter the period will be lies in the hands of the Council and Parliament," the commission said in a statement in Brussels today.
No Opposition
Under EU law, member states and the Parliament can declare early that they don't plan to oppose the measure. In the Parliament, such a confirmation involves the support of its environment committee and a recommendation to the plenary.
The recommendation is deemed approved if there's no opposition within 24 hours of its announcement to the assembly. Objections can be raised by a political group or at least 40 members of the 766-strong Parliament, which would entail putting the recommendation to a vote where a simple majority in favor is sufficient for approval.
The backloading measure may get all the necessary regulatory approvals as soon as next month and start about April, according to two people with knowledge of the matter who asked not to be identified in line with their employers' policies. The Parliament's environment committee next meets tomorrow and then on Jan. 22-23. Plenary sessions are scheduled for Feb. 3-7, Feb. 24-27 and March 10-13.
If backloading begins in the first quarter, 400 million permits will be delayed under the measure approved today. If it starts in the second quarter, 300 million permits would be held back, with the remaining 100 million added to reductions in 2015 and 2016.
2030 Targets
"There is still a possibility that 400 million will be withheld in 2014, although we consider 300 million the more likely scenario," said Itamar Orlandi, an analyst at Bloomberg New Energy Finance in London.
Backloading was designed as the first step to strengthen the EU cap-and-trade program before the region sets emissions targets for 2030 in a legislative process that typically takes more than a year. Two shorter-term options to permanently reform the market before 2030 goals are agreed include the removal of allowances and a reserve mechanism to manage supply, the commission said in a draft assessment of future policies obtained by Bloomberg News in November.
Reform Needed
"The proposal on backloading is an important signal that the EU wants a strong emissions trading market that can support the transition to green economy," Danish Climate Minister Martin Lidegaard wrote in an e-mail. "But the proposal will not itself save the EU's platform for trading CO2 allowances. Therefore we need a road map for a more permanent structural reform and tightening."
Even at 11 euros a ton carbon won't be high enough to "substantially" cut emissions at factories and utilities, according to Patrick Hummel, a Zurich-based analyst at UBS AG. Carbon needs to be about 50 euros a ton to make gas-fired power as profitable as coal, he said by phone yesterday.
According to the year-ahead clean-spark spread, a measure of profitability that includes the price of power, natural gas and carbon compiled by Bloomberg, German gas-fired plants lose 20 euros for every megawatt-hour of electricity they produce.
Economic Activity
Introducing flexibility in the supply of permits will probably improve the functioning of the European market, according to the International Emissions Trading Association in Geneva. Such a system has to be based on clear rules and its triggers could be linked to historically verified emissions, economic activity or prices, the lobby group said in a report last month.
Under the carbon market's current design, the limit on emissions from 2013 onwards was set in 2008, before the economic crisis crimped industrial demand. The system doesn't set a minimum carbon price and the commission is allowed to intervene through backloading only once in the 2013-2020 trading period.
Today's statement indicates the commission is still seeking to withdraw 400 million permits this year, according to Trevor Sikorski, the head of natural gas, coal and carbon at Energy Aspects Ltd. in London, who expects carbon at 8.50 euros by the end of the year.
"There's still lots of uncertainty as to whether that's likely," he said.
Before it's here, it's on the Bloomberg Terminal.
LEARN MORE