Japan Police Query Workers in Tainted Food Investigation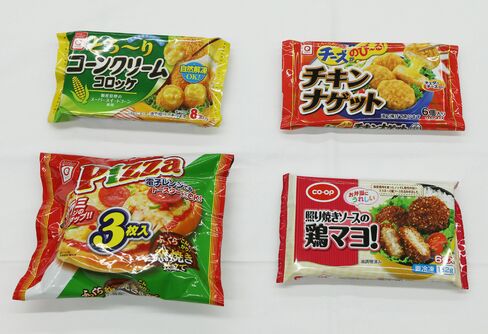 Police in Japan are questioning about 300 employees of a packaged-food maker whose products sickened hundreds of people after pesticide at 2.6 million times the permitted levels were found in frozen croquettes.
Police are probing the factory and workers for evidence in the contamination of food made at Maruha Nichiro Holdings Inc.'s plant in eastern Japan, according to a Gunma prefecture police statement yesterday.
The matter was referred to police after prefectural health officials found no evidence of contamination during production at the facility where the food was made. Food from the company's Gunma factory sickened at least 890 people in Japan and was found to contain the pesticide malathion, public broadcaster NHK reported yesterday.
"The company is partly to blame because they weren't testing," said Edwin Merner, president of Atlantis Investment Research Corp. in Tokyo, which manages about $3 billion in assets. "You'll see a big drop in sales of the food."
Maruha Nichiro is recalling about 6.4 million bags of frozen foods after finding the pesticide in products including croquettes, frozen pizza and chicken nuggets, the Tokyo-based company said in a statement Dec. 29.
The foodmaker fell for a fifth trading day yesterday, declining 1.1 percent to 177 yen in Tokyo. The shares have dropped 5.9 percent since the contamination was first reported Dec. 29, compared with a 1.3 percent gain in the broader Topix index.
Testing Food
"We test products several times a day for evidence of spoilage, based on the law, but we had no reason to believe pesticides would be present, so we didn't test for that," Ichiro Gohara, a spokesman for the company, said by phone yesterday. "Until now, we haven't received any reports of problems."
The contaminated food has a strong odor and causes nausea and stomach pain, Maruha said.
Malathion, a colorless to amber liquid with a skunk- or garlic-like smell, is registered with the U.S. Environmental Protection Agency for use on food, feed and ornamental crops, according to the National Pesticide Information Center website. The chemical is also an ingredient in shampoos to control head lice, according to the website.
"Long-term, people will forget about it, as no one has died," said Merner. "I think most of the bad news is out."
In 2008, Japan Tobacco Inc. recalled frozen China-made dumplings contaminated with pesticide after the products sickened 10 Japanese consumers. Later that year, Nichirei Corp., Japan's biggest frozen-food maker at the time, halted sales of beans imported from China after a consumer was sickened by food later found to be contaminated with the pesticide dichlorvos.
Before it's here, it's on the Bloomberg Terminal.
LEARN MORE