Last Chance to See the Man Who Loved Cats and Girls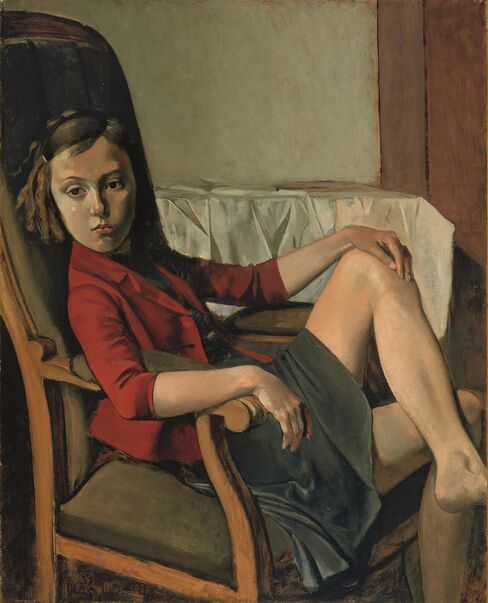 I met with curator Sabine Rewald in her cluttered office at the Metropolitan Museum of Art to talk about girls and cats.
She has neither, but the painter Balthus (1908-2001) compensates for any sense of missed opportunities.
His twin obsessions were dreamy adolescent girls and big-headed toms depicted in somber rooms. The combination can be unsettling. In one painting, his young muse, Therese Blanchard, reveals a bit of bright white underwear, while a fat cat greedily laps at a saucer of milk.
You have through Sunday to see the show.
Hoelterhoff: How did "Balthus: Cats and Girls" acquire the subtitle "Paintings and Provocations" before opening in the fall?
Rewald: There was the worry that just "Cats and Girls" might lead to a misunderstanding -- that grandparents would buy the catalog thinking it was a cute book for children, and then be surprised.
After long, long discussions, the subtitle was added to warn visitors.
Hoelterhoff: When the Met last showed Balthus in 1984, the pedophiles were still in hiding. Have views of the painter changed over the years?
No Talking
Rewald: Mine haven't. I never thought there was something untoward in his depiction, especially of Therese, who is the muse of the show.
But it is true that the way we interact with children has changed. I happen to love children and sometimes stopped to chat with a few young students outside the school near the museum.
The other day, a stern supervisor came up to me and said: "Please don't talk to the children."
Hoelterhoff: These girls in the paintings aren't talking at all; they seem suspended in dreams.
Rewald: He puts them into closed rooms, because they are in their own world. These are not Victorian rooms with stuffed toys.
Hoelterhoff: Did you discover anything new about Therese Blanchard?
Rewald: Over the years, I'd found other models, who by then had become rotund grandmothers in the countryside, but I never could find her.
Finally, two years ago, I wrote to the 19 city halls in Paris. And I got a letter back from the 14th saying she was born there in a hospital for poor women and that she died in 1950 in a different hospital in the same arrondissement at the age of 25.
Thorough German that I am, I went there, but the hospital refused to tell me what she died of. Even a letter on official Met stationary didn't help. I wasn't family.
Beloved Mitsou
Hoelterhoff: So she lives on in portraits.
Rewald: It's poignant that this simple girl, the daughter of a waiter, ends up at the Metropolitan Museum and on the cover of the catalog.
Hoelterhoff: I love Balthus's documentation of Mitsou, the stray he found preening on a park bench when he was 11.
Rewald: For a while, happiness reigned. Then Balthus ate too much candy one Christmas and ended up sick in bed. The cat got bored and disappeared. He worked out his grief in these little pictures. Picture No. 40 shows him in tears.
His mother's lover was the poet Rainer Maria Rilke who had them published in 1921 and wrote the forward. Then they disappeared like the cat.
Hoelterhoff: Where were they?
Rewald: In a small town in southern Germany. I found a phone number for the wife of Rilke's grandson that I had filed some 30 years ago when I was writing my dissertation. So I called on a whim and she picked up and said the pictures were there, wrapped in the same paper in which they had come back from the printer.
Loses It
Hoelterhoff: What happened to Balthus? Those paint-encrusted last paintings from the 1950s are dire -- really lifeless and trite.
Rewald: Yes. He became more interested in surface effects than psychological depth. And he pretty much stopped drawing cats.
The show runs through Jan. 12 at the Metropolitan Museum of Art, 1000 Fifth Ave. The museum is open until 9 p.m. on Friday and Saturday.
(Manuela Hoelterhoff is an executive editor at Bloomberg News. Any opinions are her own. This interview was adapted from a longer conversation.)
Before it's here, it's on the Bloomberg Terminal.
LEARN MORE