Bowling, Beer Curbed for U.S. Expats as India Row Goes On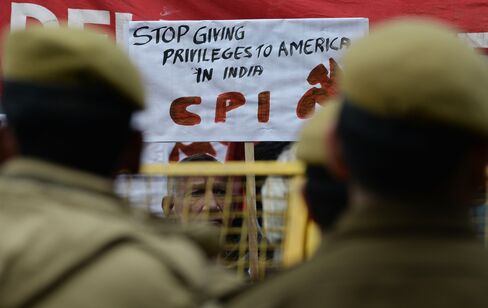 For U.S. citizens living in India's capital, it will soon get harder to take a swim and become more costly to run red lights.
India is targeting American embassy staff and expatriates in New Delhi as it boosts pressure on the U.S. to drop visa fraud charges against a diplomat. A social club with a swimming pool and bowling alley will be shut for non-diplomats from Jan. 16, while embassy cars will now face traffic fines, according to an Indian government official, who asked not to be identified because he is not authorized to discuss the matter publicly.
"This has become rather silly and unfortunate," said Salman Haider, India's former top bureaucrat in the foreign ministry who had also served as ambassador to China. "It's important that the two sides talk this issue out and find a way forward. I have seen no evidence that the U.S. or India has taken any steps in that direction."
The move, which comes as the country prepares for elections in a few months, signals continued tension between the world's most-populous democracies over India's outrage that U.S. officials charged a diplomat with visa fraud for underpaying her babysitter. U.S. Energy Secretary Ernest Moniz canceled a trip to India this month, according to two officials with knowledge of the decision who asked not to be identified because they were not authorized to speak publicly.
Withdrawing Courtesies
"There is no merit in extending courtesies beyond what is accorded to our diplomats," Foreign Minister Salman Khurshid told reporters in New Delhi yesterday. "Since they are saying they will abide by their law, so we will also apply our laws. We are withdrawing facilities that were extended over and above what was mutually agreed between us."
The issues between the nations are "highly technical and complicated" and the U.S. will address them privately, Jen Psaki, a spokeswoman for the U.S. State Department, told reporters in Washington D.C. yesterday.
"We continue to believe that we can maintain our strong historic relationship, and that's what our focus is on," she said.
Located next to the U.S. embassy in New Delhi's diplomatic district, the American Community Support Association is popular with families and used for embassy functions, including last year's July 4 Independence Day celebrations. It has a baseball field, a small gym, a beauty parlor, and restaurants and bars serving cheeseburgers and American beer.
Parking Fines
The club, which had offered family memberships for $2,425 a year, will soon only be available for accredited diplomats because they are exempt from paying duties on services, according to the Indian government official. The club may now struggle to stay open because it will serve a small number of diplomats, the official said.
India also asked the American Center, a venue in central New Delhi for U.S. cultural programs including movies, concerts and plays, to cease all programs immediately for failing to gain approval, according to the official. This month the center was due to screen films like "White House Down" and "Wolverine," and host an event called "How to Fund Your U.S. Education."
After years of exemptions, U.S. embassy cars will also face penalties for unauthorized parking, jumping red lights and dangerous driving, the official said. Fines for such violations range from 90 rupees ($1.45) to 990 rupees for first-time offenders, according to the Delhi Transport Department.
Alcohol Privileges
The moves build on measures announced earlier to remove security barriers around the U.S. embassy in New Delhi and cancel diplomatic import privileges for food and alcohol. Indian authorities also sought information on how much Indian staff earn as employees of the U.S. government, and if teachers at the American school paid taxes.
Further action may be taken against the embassy in coming weeks, the Indian official said, declining to say what measures are being considered. U.S. Embassy spokesman Peter Vrooman did not answer calls to his mobile phone.
Manhattan U.S. Attorney Preet Bharara, who won the largest insider trading case in American history last year, said Indian diplomat Devyani Khobragade submitted a false visa application for an employee who was to work as her housekeeper and babysitter, and paid her "far below" minimum wage. He has defended a strip-search of Khobragade, saying it was standard practice.
Kerry Call
U.S. Secretary of State John Kerry sought to mend ties with India over the incident, expressing his regret in a Dec. 18 call to Indian National Security Adviser Shivshankar Menon. He stopped short of an apology.
At stake is the growing relationship between India and the U.S., which took time to thaw in the 1990s when India was viewed as a Soviet ally. Indian Prime Minister Manmohan Singh, who was President Barack Obama's first official diplomatic guest, last week described a deal with the U.S. that allowed it to import nuclear technology as his greatest achievement during a decade in power.
"Our government attaches highest priority to strengthening this strategic partnership between our two countries," Singh told reporters in New Delhi on Jan. 3. "There have been recently some hiccups, but I sincerely believe that these are temporary aberrations and diplomacy should be given a chance to resolve these issues."
India 'Scarred'
The two countries depend on each other to maintain security in South Asia, where militants control swaths of neighboring Pakistan and the Taliban threatens to take power in Afghanistan after the U.S. withdraws combat forces, said Michael Kugelman, senior program associate with the Wilson Center in Washington. Although Khobragade's case is unlikely to hamper India-U.S. relations, India has been "scarred" by what they perceive to be a violation of diplomatic rights, he said.
"The relationship has improved, but there's still a lot of tension between the two countries in terms of trust, and this spat has really angered the Indians," he said in a phone interview. "This case will not torpedo the relationship."
Khurshid said last month he told the U.S. to abandon the case against Khobragade. The diplomat this week asked a judge to postpone a Jan. 13 deadline for her indictment to Feb. 12.
Since her arrest, Khobragade has been transferred to a position at India's United Nations mission in New York from her consular role to give her full diplomatic immunity. The U.S. State Department has said that new posting wouldn't nullify any previously existing criminal charges.
In a contract prosecutors said Khobragade submitted as part of the visa application, the diplomat said she paid the babysitter $9.75 an hour -- above minimum wage as required by law, State Department Special Agent Mark Smith said in the criminal complaint. In a second contract, the diplomat agreed to pay the babysitter 30,000 rupees a month, or approximately $573, the U.S. said, which came out to about $3.31 per hour.
Khobragade denies wrongdoing, and her lawyer said last month she was arrested in error.