German Factory Orders Rose More Than Expected in November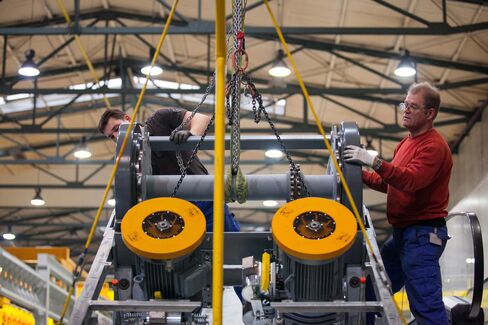 German factory orders rose more than economists forecast in November, adding to signs that a recovery in Europe's largest economy is gathering pace.
Orders, adjusted for seasonal swings and inflation, gained 2.1 percent from October, when they fell by the same amount, the Economy Ministry in Berlin said today. Economists forecast a gain of 1.5 percent, according to the median of 32 estimates in a Bloomberg News survey. A separate report showed retail sales in the euro area also beat expectations.
The German economy drove the euro area's recovery in the second half of 2013 and continues to be "in good shape," the Bundesbank said in December when it raised its forecast for growth this year. Unemployment fell more than economists predicted at the end of last year and retail sales climbed for the first time in three months in November.
"The signs are that Germany's economy will keep expanding strongly in the first half of 2014," said Stefan Muetze, an economist at Helaba in Frankfurt. "That's good for the entire euro area and will support the region's recovery this year."
The euro slipped 0.3 percent against the dollar and was trading at $1.3582 as of 12:57 p.m. Frankfurt time.
Retail Sales
Euro-region retail sales increased 1.4 percent in November from the previous month, the European Union's statistics office in Luxembourg said. That's more than the 0.1 percent increase forecast by economists.
A report tomorrow may show improving economic confidence in the region. The European Commission's sentiment index probably rose to 99.1, the highest reading since July 2011, according to a Bloomberg survey.
While there are signs of a recovery in the euro area, the pace isn't yet strong enough to lower unemployment, which remained at 12.1 percent in November. After several revisions of previous months' data, the jobless rate has been stable at that level since April.
Today's German data showed that orders increased 6.8 percent from a year ago when adjusted for the number of working days. Domestic orders rose 1.9 percent from the previous month, while those from outside the euro area jumped 3.5 percent. Demand from within the currency region was unchanged from October. Orders for basic, investment and consumer goods all increased.
Volkswagen AG's Audi unit, the world's second-biggest maker of luxury cars, said last month it plans to spend 22 billion euros ($30 billion) through 2018 on developing new models and expanding production.
The Bundesbank predicts Germany's economy will expand 1.7 percent this year and 2 percent in 2015. That compares with European Central Bank forecasts for growth in the 18-nation euro area of 1.1 percent and 1.5 percent, respectively.
The ECB's Governing Council will hold its benchmark interest rate at a record low of 0.25 percent when policy makers gather in Frankfurt tomorrow, according to all 51 economists in a separate survey.