Widows Seeing Successive Gilt Losses Favors Mexico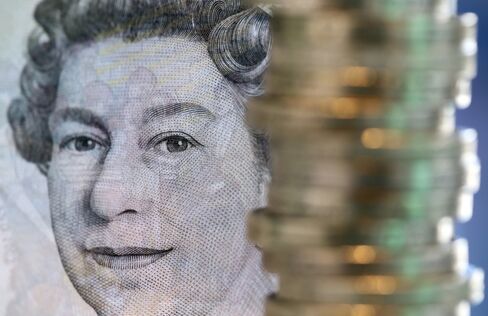 Edinburgh's second-biggest money manager expects the first back-to-back annual declines for U.K. bonds in at least 28 years and is looking further afield to generate returns.
Losses will probably be repeated this year as accelerating economic growth fuels belief that the Bank of England will raise interest rates sooner than Governor Mark Carney and his colleagues have signaled, according to Alan Bridges, who manages 9 billion pounds ($15 billion) of gilts at Scottish Widows Investment Partnership. Gilts fell 4.3 percent in 2013, trailing U.S. Treasuries and German bunds, according to Bloomberg World Bond Indexes.
"The gilt market is one of our least-favored global bond markets," Bridges said at his office in the Scottish capital. "We see themes of stronger growth driving gilts to underperform for certainly the early part of the year."
The 2013 decline in gilts was the biggest since a 5.7 percent drop in 1994, based on indexes developed by Bank of America Merrill Lynch. They haven't lost money for consecutive years since the gauges were introduced in 1986.
The yield on 10-year year gilts rose 1.2 percentage points in 2013 to end the year at 3.02 percent, widening the difference over bunds to 107 basis points today compared with 57 basis points 12 months ago. The gilt yield will probably increase to about 3.5 percent by the end of 2014, Bridges said. The yield was at 2.96 percent today.
Emerging Markets
Should the yield on 10-year gilts meet that prediction, it will translate into a 1.2 percent pretax loss for investors, according to data compiled by Bloomberg. The median of 17 forecasts in a Bloomberg survey is for the yield to reach 3.35 percent in the fourth quarter.
"As part of our view that gilts are probably going to underperform we've been underweight at various times against bunds," Bridges said in late December, reiterating his comments yesterday. "We are also broadening our investment universe to include better quality emerging markets, so it will be places like Mexico, South Africa, Poland and Brazil."
Mexico's government bonds gained 1.3 percent last year while South African debt made 0.6 percent. Ten-year gilts yielded 340 basis points less than similar-maturity Mexican bonds today, down from from a 2013 high of 376 basis points in July, based on closing Bloomberg generic prices.
Widows Assets
Scottish Widows Investment oversaw 146 billion pounds as of Sept. 30, making it the largest money manager in Edinburgh after Standard Life Investments, which manages 180 billion pounds. Aberdeen Asset Management Plc, Scotland's largest fund company, agreed to buy Scottish Widows Investment in November for 560 million pounds from parent Lloyds Banking Group Plc.
The British economy headed for its fastest expansion in three years in 2013, driving market skepticism that the benchmark interest rate will be held at a record low 0.5 percent, where it's been since early 2009.
Policy makers said on Nov. 13 that they may have to move earlier than they anticipated because of a faster decline in unemployment, which has become a key measure for central bankers. They said the jobless rate, currently 7.4 percent, is more likely than not to fall to the 7 percent threshold where they might start raising rates in the third quarter of 2015. Previously, they didn't expect that until the second quarter of 2016.
Equity Gains
Within the gilt market, Scottish Widows Investment expects securities maturing in at least 10 years to be supported by demand from pension funds seeking to match their liabilities and reinvest their gains after the FTSE 100 Index of stocks rallied 19 percent last year including reinvested income.
The extra yield, or spread, that investors get for holding 30-year gilts instead of 10-year bonds dropped to 59 basis points on Jan. 2, the least since May 2010, reflecting greater demand for the longer-dated securities.
"With base rates stuck at 0.5 percent, anything under two years will be anchored, but then we see yields rising up to about 10 years," Bridges said. "The biggest yield increase should be on gilts between five and 10 years."
Before it's here, it's on the Bloomberg Terminal.
LEARN MORE