Rosengren Signals Support for Taper Strategy After Dissent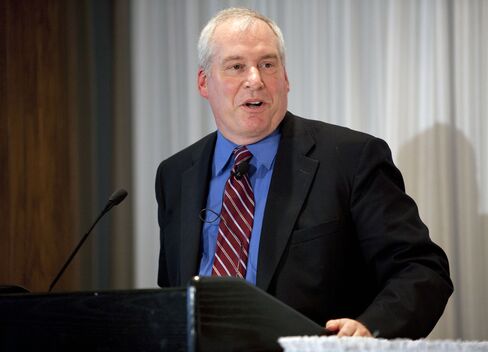 Federal Reserve Bank of Boston President Eric Rosengren, the only dissenter against a Fed decision to taper bond buying, said he is now comfortable with the strategy to gradually cut monthly purchases in the future.
"I preferred to wait before beginning the program, but the program it looks like we're embarked on is a very gradual program and I think a gradual removal of accommodation is appropriate," Rosengren said today in an interview with Bloomberg News, indicating he would not persist in objecting to the Fed's strategy.
Rosengren, who doesn't vote on policy this year, signaled his endorsement for Chairman Ben S. Bernanke's strategy to reduce the pace of bond purchases in measured steps at each meeting of policy makers this year if the economy continues to improve. Fed officials last month decided to taper bond buying to $75 billion a month from $85 billion, citing an improved outlook for the labor market.
The Federal Open Market Committee is scheduled to meet Jan. 28-29 and will probably reduce purchases in $10 billion increments over the next seven meetings before ending them in December, according to a Bloomberg News survey of economists.
"That's a patient strategy in an environment where we're growing closer to 3 percent than 2 percent," Rosengren said.
In a speech today in Hartford, Connecticut, he said policy makers should cut stimulus "only very gradually" to avoid hurting the economy.
Persistent Dissents
Some Fed officials, including Kansas City President Esther George and Richmond Fed President Jeffrey Lacker, have held such strong objections to policy that they dissented persistently. George voted against seven consecutive FOMC decisions last year, and Lacker dissented from all eight committee decisions in 2012.
"This recovery has already been too slow, and we do not want premature tightening of monetary policy to delay the return to more normal economic conditions," Rosengren said today in a speech. "A very gradual normalization is very appropriate given that the unemployment rate remains unusually high and the inflation rate remains unusually low."
Rosengren said in the interview that he would support a stop to tapering or an increase in monthly purchases "if we were in a situation where labor markets were to deteriorate and imply much slower growth than I currently forecast."
Rosengren said in his speech he expects the economy to expand at a 3 percent pace in 2014, "consistent with stronger employment growth and declines in the unemployment rate." Joblessness fell to 7 percent in November.
'Regain Confidence'
"All of us who follow the economy have been waiting for the drag from fiscal austerity to wane, for consumers to regain confidence and increase demand and for the housing market to solidify its nascent recovery," Rosengren said.
Yields on the benchmark 10-year Treasury note dropped for a second day as investors assessed the Fed's case for additional tapering of stimulus. Yields fell two basis points, or 0.02 percentage point, to 2.94 percent at 12:14 p.m. in New York, while the Standard & Poor's 500 Index rose 0.5 percent to 1,836.23 in New York trading.
The U.S. economy is "far from where we need to be" and "the Federal Reserve continues to miss both elements of its dual mandate from Congress -– inflation and employment -– by fairly large margins," Rosengren said.
Consumer prices rose 0.9 percent in November from a year earlier, according to an inflation measure watched by the Fed. The central bank aims for inflation of about 2 percent.
'Real Concern'
"Inflation rates persistently below the stated target can be a cause for real concern," Rosengren said.
Too-low inflation increases the risk that a "negative shock" to the economy could cause deflation, he said. It also results in higher inflation-adjusted interest rates, making it harder to achieve a sufficient pace of economic growth, he said.
"Furthermore, persistently low inflation can theoretically undermine the credibility of the central bank," he said. "If the central bank announces an inflation target but is unable to achieve that target in a reasonable time frame, some may call into question its ability to do so in the medium- or long-term as well."
A slow economic recovery poses "significant costs" to the labor market, putting strain on the unemployed and potentially leading their skills to atrophy, he said. It may also have "longer-lasting and structural implications for labor markets and the economy."