Madoff Trustee Tops $10 Billion Recovery With Bank Deal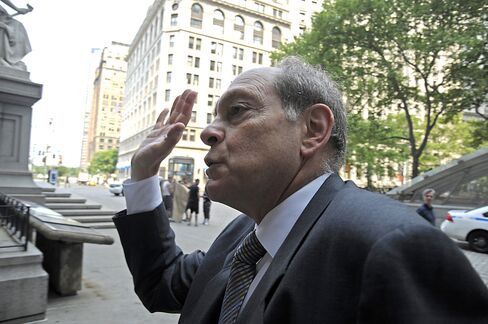 The trustee unwinding Bernard Madoff's fraud has recovered more than $10 billion for victims five years after the biggest Ponzi scheme collapsed, including $543 million yesterday from Madoff's bank, JPMorgan Chase & Co.
Irving Picard, the trustee, has recovered 59 percent of the $17 billion in principal lost by thousands of investors in Madoff's investment advisory business. Picard said yesterday in a statement that the JPMorgan agreement resolves his claim the bank facilitated Madoff's scam for years by ignoring signs of fraud.
The settlement of the three-year-old lawsuit was made possible by the trustee's team "uncovering and documenting the facts about JPMorgan's relationship with Madoff," Picard said in the statement.
Madoff's JPMorgan account was used to perpetuate the fraud, according to Picard. Madoff deposited money from new customers into the account instead of investing it in securities, and made withdrawals to pay back earlier investors. Picard said New York-based JPMorgan, the biggest U.S. bank, ignored signs of wrongdoing to benefit financially from the con man's business.
Picard is pursuing claims totaling about $3.5 billion from UBS AG, HSBC Holdings Plc and UniCredit SpA, which the trustee has also accused of benefiting from Madoff's fraud. The banks have denied the claims.
Criminal Allegations
Picard's $10 billion milestone comes as JPMorgan said yesterday it had agreed to pay $1.7 billion to the U.S. to resolve criminal allegations, and $350 million in a related case by the Office of the Comptroller of the Currency.
The parallel efforts by the trustee and federal investigators have resulted in a total recovery for victims of almost $14 billion, or 82 percent of the lost principal. Picard has distributed about $4.9 billion to victims, with billions more held in reserve until various legal issues are resolved.
"In the very early days of this effort, getting back a few pennies on the dollar was a goal," Picard said in an interview last month, around the fifth anniversary of Madoff's arrest on Dec. 11, 2008. Since then, Picard said, his team "has recovered far more than pocket change."
Madoff, 75, pleaded guilty to fraud in 2009 and is serving a 150-year sentence at a federal prison in North Carolina. At least seven others pleaded guilty, including his brother Peter Madoff, who is serving a 10-year term.
Workers' Trial
Five members of Madoff's inner circle, who worked for the con man for decades, are on trial in Manhattan federal court on charges of helping perpetuate the fraud to get rich. The five have pleaded not guilty.
Picard's accord, which resolves his claims against JPMorgan in bankruptcy court and a related class-action lawsuit, must be approved by a bankruptcy judge. A court hearing on the matter is scheduled for Feb. 4 in Manhattan.
The JPMorgan settlement money will become available to victims once the deal is approved by a judge and can't be appealed, Picard said in the statement.
JPMorgan approached Picard about a settlement several months ago, according to the statement. The deal avoids the risk and costs associated with continuing the dispute in court, the trustee said.
"This compromise with JPMorgan allows us to sidestep those pitfalls while recovering additional, significant monies," David Sheehan, Picard's lead lawyer in the case, said in the statement.
Fairfield Funds
Under a deal reached in 2011 with two defunct investment funds that directed customer money to Madoff, Picard will give $50 million of the JPMorgan settlement to the liquidator for those funds, Fairfield Sentry Ltd. and Fairfield Sigma Ltd., according to the trustee's statement.
"This is a significant milestone in the liquidator's ongoing efforts to realize funds for distribution to the victims of the Madoff Ponzi scheme that invested through Fairfield," Kenneth Krys, the court-appointed Fairfield liquidator, said in a statement yesterday.
Fairfield Sentry invested about 95 percent of its assets with Madoff, making it his biggest "feeder fund," according to the Fairfield statement. Fairfield Sentry entered liquidation in the British Virgin Islands in 2009. The funds have filed more than 300 "claw-back" lawsuits in New York against investors, seeking the return of more than $6 billion paid during the Madoff fraud, Fairfield said.
Money Managers
Walter Noel and other individuals associated with Fairfield Greenwich Group, which operated the funds, agreed in a deal made public in 2012 to pay more than $50 million to investors in the funds they managed. The funds invested a total of $7 billion with Madoff.
Before yesterday's JPMorgan accord, Picard's team had recovered $9.5 billion through lawsuits and out-of-court settlements, including $5 billion from the estate of billionaire Jeffry Picower, who began investing with Madoff in the 1970s. Picower, whom Picard called the biggest beneficiary of Madoff's scheme, had a heart attack and drowned in a pool in Florida in October 2009.
U.S. investigators had recovered about $2.3 billion for Madoff investors before yesterday, including $2.2 billion from Picower's estate and $100 million from Madoff's Midtown Manhattan penthouse apartment and other belongings. The JPMorgan deal brings total U.S. recoveries to $4 billion -- a sum it will distribute through a separate process from the one used by Picard.
The liquidation case is Securities Investor Protection Corp. v. Bernard L. Madoff Investment Securities LLC, 08-bk-01789, U.S. Bankruptcy Court, Southern District of New York (Manhattan).
Before it's here, it's on the Bloomberg Terminal.
LEARN MORE