Lixil Weighs Takeover for Emerging Markets Push After Grohe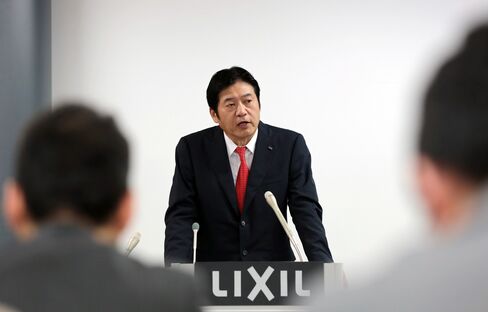 Lixil Group Corp., the Japanese company that agreed to buy bathroom-fixture makers American Standard Brands and Grohe Group last year, is studying another overseas acquisition to boost revenue from emerging markets.
The planned deal will help Tokyo-based Lixil achieve its target of increasing sales from emerging markets to more than 30 percent of its revenue, from about 20 percent now, Chief Executive Officer Yoshiaki Fujimori said in a Jan. 6 interview in Tokyo. The company could spend tens of billions of yen on its next takeover, Fujimori added.
Since Fujimori joined the company in June 2011, Lixil has spent $5.3 billion buying companies in the U.S. and Europe to counter slowing demand at home amid a shrinking population, according to data compiled by Bloomberg. It is now seeking acquisitions that can help increase revenue from Southeast Asia, South America and Africa, he said.
"2014 will be the year for Lixil to start full-fledged efforts to globalize itself with the brands we have created and gained through acquisitions," said Fujimori, who formerly worked for General Electric Co. "We'll seek a two-digit percentage growth in revenue by expanding sales from emerging markets."
Lixil shares rose as much as 4.8 percent in Tokyo trading, the biggest gain in more than five months. The stock advanced 3.4 percent to 3,020 yen as of 11:14 a.m. local time, outpacing the 1 percent rise in the benchmark Nikkei 225 Stock Average.
Global Expansion
Fujimori declined to identify any targets, saying only that a deal would be "water-related." Besides bathroom fixtures, Lixil also manufactures building materials for housing as well as doors and windows.
To keep pace with its global shift, Lixil plans to reshape management for some of its departments including human resources, marketing and business development, Fujimori said. The company will hire an American lawyer fluent in Japanese, Chinese and English to head its legal department starting in April, he said, without identifying the person.
In September, Lixil and Development Bank of Japan agreed to acquire an 87.5 percent stake in Germany's Grohe, a maker of high-end faucets and other bathroom fixtures, for 2.94 billion euros ($4 billion). The deal is expected to close by June 30. It earlier bought the maker of American Standard toilets for $542 million and has also purchased Permasteelisa SpA, which made walls for the Guggenheim Museum and Sydney Opera House.
Lixil's revenue for the year ended March 2013 rose 11 percent to 1.44 trillion yen ($13.8 billion), while net income jumped more than 11-fold to 21.3 billion yen. It forecasts profit of 41 billion yen for this financial year, on revenue of 1.6 trillion yen, Lixil said in its Nov. 5 earnings statement.
Fujimori said he almost pulled out of early negotiations to buy Grohe after disagreeing on price and will always keep the option of walking away from an acquisition.
"You don't put yourself in a position that you must make a deal no matter what," he said.