Lindsey Vonn's Sochi Scratch Puts NBC, Sponsors in a Bind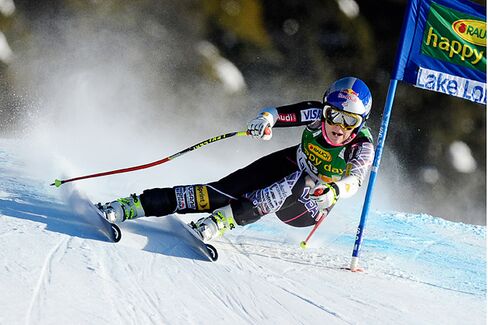 Lindsey Vonn, one of the few American household names in winter sports, will spend the Sochi Olympics rehabbing in a gym, rather than charging down Russian slopes. The 29-year-old skier, who returned to racing only recently after injuring her knee almost a year ago, announced on her website this morning that the joint is still "too unstable" to go up against the world's best. "I am devastated," she wrote. "On a positive note, this means there will be an additional spot so that one of my teammates can go for gold."
None of those possible stand-ins has won four overall World Cup championships, nor did any of them become the first U.S. woman to win downhill gold. New Hampshire native Leanne Smith just swooshed to an impressive 14th place in a World Cup downhill and may well make some noise next month in Sochi, but she never got the Sports Illustrated swimsuit treatment or graced the cover of Outside.
The Winter Olympics are already a tricky game for TV executives. The average U.S. viewer doesn't follow the luge circuit, for example, or even World Cup skiing, for that matter. The last Winter Games, in Vancouver, drew 190 million viewers—far short of the 219 million garnered by the 2012 Summer Games in London. Name recognition is key to drawing viewers to snow and ice. If that star power coincides with a story—say, a gritty comeback from a gruesome injury–all the better.
Comcast's NBCUniversal, meanwhile, has promised an unprecedented level of coverage of the upcoming games: almost 1,600 hours of TV broadcasting, including 185 hours on its main network. Without Vonn, expect TV producers to crank up the story lines of the few remaining high-profile winter stars: It's going to be all "Flying Tomato," all the time. Bode Miller, known for being prickly with media, will have even more cameras in his wake. And be prepared to hear a lot more about Ashley Wagner, the best chance for a U.S. medal in women's figure skating.
The bevy of corporate sponsors behind Vonn, including Vail Resorts, GoPro, Under Armour and Oakley, a Luxottica's brand, will miss out on the chance for lucrative podium publicity. The savviest marketers at those companies will be pushing Vonn to do a media blitz about her decision to bow out.
"Doing enough stories on her NOT going probably makes up for the exposure she would have received at the Games," said Matt Powell, a marketing analyst at SportsOneSource. Never racing, in short, may be better than skidding off course on a wobbly knee.
Before it's here, it's on the Bloomberg Terminal.
LEARN MORE