Ireland Starts 10-Year Bond Sale in Post-Bailout Market Return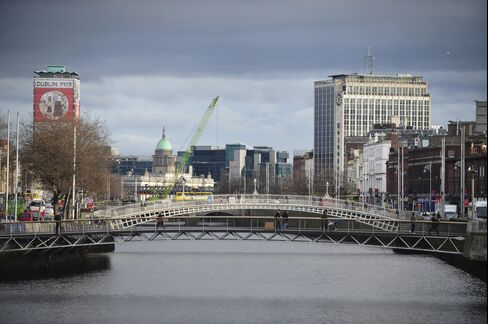 Ireland started selling a 10-year bond, marking its return to debt markets after exiting its international bailout last month, according to people familiar with the matter.
The National Treasury Management Agency is planning to raise at least 3 billion euros ($4.1 billion) through the sale, said another person familiar, who wasn't authorized to speak about it so asked not to be named. The March 2024 bond is being marketed at around 145 basis points above mid swaps, narrowing from an initial target of about 150 basis points, according to a person familiar.
"We expect the issue to be priced between 3.55 percent to 3.60 percent," said Ryan McGrath, an analyst at Cantor Fitzgerald LP in Dublin.
Ireland exited its rescue program on Dec. 15, becoming the first nation to do so since the euro region's debt crisis erupted in 2009. It requested the 67.5 billion-euro bailout led by the European Union and International Monetary Fund in November 2010 when it was frozen out of bond markets as its banks came close to collapse.
Ireland's 10-year bond yield fell 4 basis point, or 0.04 percentage point, to 3.31 percent as of 8:54 a.m. today. It's down from a euro-era peak of more than 14 percent in July 2011, as the government reined in its budget deficit and real-estate prices began to stabilize under the bailout program. Ray Gordon, a spokesman for the NTMA, declined to comment on the pricing of the bond issue.
''The deal is likely to be well over subscribed and will mark an important milestone for Ireland and, indeed, the euro area,'' said Dermot O'Leary, chief economist at Goodbody Stockbrokers in Dublin. ''From a funding point of view, Ireland is already in a comfortable position, but the sale today is more about Ireland's return to normality."
Before it's here, it's on the Bloomberg Terminal.
LEARN MORE