Bernanke Said to Plan Lunch With Senate Democrats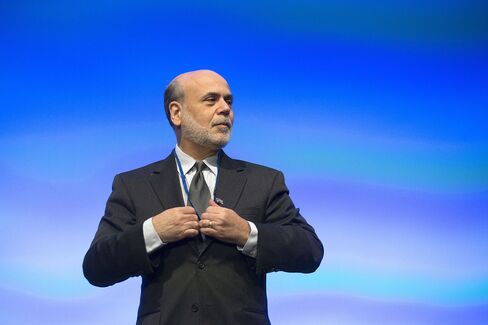 Jan. 7 (Bloomberg) -- Federal Reserve Chairman Ben S. Bernanke will have lunch with Senate Democrats on Jan. 9 as he prepares to turn the position over to his successor, a Senate Democratic aide said.
The closed-door Capitol Hill meeting probably will touch on issues facing the Fed this year, including the central bank's efforts to recover from the 2008 global financial crisis, said the aide, who spoke today on condition of anonymity because the session hasn't been publicly disclosed.
The Senate voted 56-26 yesterday to confirm Fed Vice Chairman Janet Yellen as Bernanke's successor. The lunch meeting probably will be Bernanke's final face-to-face session with a group of senators before his second term expires Jan. 31.
Yellen will become the 15th Fed chairman and the first woman to head the central bank in its 100-year history. She will take over as the Fed trims monthly bond purchases in a first step toward lessening the unprecedented stimulus.
Yellen, 67, has backed Bernanke's efforts to steer the economy through its most severe crisis since the 1930s with record-low interest rates and three rounds of bond buying that have swelled Fed assets to $4.02 trillion. She pledged in a Nov. 14 confirmation hearing to press on with accommodation until achieving a "strong recovery."
Many of the 26 Republicans who voted against Yellen's confirmation cited her support for Bernanke's policies, which they say may create asset-price bubbles or lead to an inflationary surge even with prices rising below the Fed's 2 percent target.
Consumer prices rose 0.9 percent in November from a year earlier, according to an inflation measure watched by the Fed.
To contact the reporter on this story: Kathleen Hunter in Washington at khunter9@bloomberg.net
To contact the editor responsible for this story: Jodi Schneider at jschneider50@bloomberg.net