Yellen Confirmed by U.S. Senate to Become Fed Chairman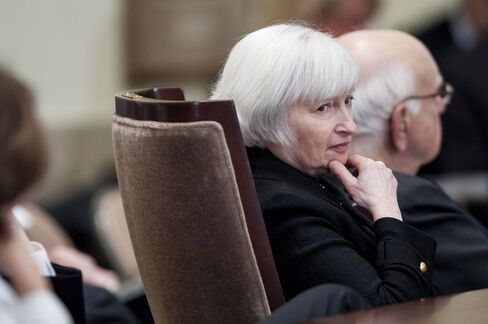 Jan. 6 (Bloomberg) -- Janet Yellen won U.S. Senate confirmation to become the 15th chairman of the Federal Reserve and the first woman to head the central bank in its 100-year history.
Yellen, 67, was confirmed today by a 56-26 vote, with 11 Republicans supporting her. She'll replace Ben S. Bernanke, whose second term as chairman expires Jan. 31, as the Fed trims monthly bond purchases in a first step toward lessening the unprecedented stimulus.
"With the bipartisan confirmation of Janet Yellen as the next chair of the Federal Reserve, the American people will have a fierce champion who understands that the ultimate goal of economic and financial policymaking is to improve the lives, jobs and standard of living of American workers and their families," President Barack Obama said in a statement.
Currently Fed vice chairman, Yellen has backed Bernanke's efforts to steer the economy through its most severe crisis since the 1930s with record-low interest rates and three rounds of bond buying that have swelled Fed assets to $4.02 trillion. She pledged in a Nov. 14 confirmation hearing to press on with accommodation until achieving a "strong recovery."
"Americans should feel reassured that we will have her at the helm of the Fed as our nation continues to recover from the Great Recession," Senate Banking Committee Chairman Tim Johnson, a South Dakota Democrat, said in a statement today. "Dr. Yellen's leadership will also be critical as the Fed completes Wall Street reform rulemakings and continues to enhance the stability of our financial sector."
Bubble Concerns
Yellen's Senate opponents, including Charles Grassley of Iowa, cited her support for Bernanke's policies, which they say may create asset-price bubbles or lead to an inflationary surge even with prices rising below the Fed's 2 percent target. Consumer prices rose 0.9 percent in November from a year earlier, according to an inflation measure watched by the Fed.
Grassley, a Republican, said he opposed Yellen's confirmation because he thinks she would continue Bernanke's "misguided" policies, adding that he was skeptical the Fed would unwind its stimulus efforts under her watch.
"The stock market has become addicted to the Fed's easy-money policies," Grassley said on the Senate floor today, adding that "the benefit to Main Street has been questionable at best."
Price Stability
House Financial Services Chairman Jeb Hensarling urged Yellen "to adopt a more transparent and rules-based monetary policy that aims for price stability and long-term growth."
"Since 2008, the Federal Reserve has held interest rates near zero and quadrupled its balance sheet to $3.9 trillion," the Texas Republican said. "It has, in many ways, served as an enabler to the Obama administration's failed economic policy through an unprecedented campaign of monetary stimulus with three massive rounds of bond buying."
The Federal Open Market Committee on Dec. 18 tapered monthly bond purchases to $75 billion from $85 billion, saying in a statement that "labor market conditions have shown further improvement."
The committee, scheduled to meet Jan. 28-29, probably will cut its purchases in $10 billion increments over the next seven meetings before ending them in December, according to a Bloomberg News survey of economists after the FOMC announced the reduction.
Economic Recovery
The Fed says its bond-buying helped reduce unemployment to a five-year low of 7 percent in November. Bernanke backed the stimulus in a Jan. 3 speech, saying that "for the most part" academic research supports the conclusion that bond purchases and clearer communication from the Fed have "helped promote the recovery."
Bernanke also said headwinds that have held back the economy may be abating, leaving the U.S. poised for faster growth.
"The combination of financial healing, greater balance in the housing market, less fiscal restraint, and, of course, continued monetary policy accommodation bodes well for U.S. economic growth in coming quarters," he said in Philadelphia.
The Standard & Poor's 500 Index climbed 30 percent last year for its biggest advance since 1997, while home prices rose in October from a year earlier by the most in more than seven years, according to the S&P/Case-Shiller index of values in 20 cities.
Yellen was among the first Obama nominees considered under Senate rules adopted in November that deny a single senator the right to demand a 60-vote threshold on candidates.
Simple Majority
With rules now requiring a simple majority, the Senate last month confirmed nominees including Mel Watt to oversee mortgage companies Fannie Mae and Freddie Mac, and Nina Pillard and Patricia Millett to be judges on the D.C. Circuit Court of Appeals.
Senator Rand Paul, a Kentucky Republican, slowed consideration of Yellen's nomination while trying to get a Senate vote on legislation he proposed to audit all Fed operations, including monetary policy decisions. Democrats refused to consent to his demand.
Yellen won support from Republican Senators Mark Kirk of Illinois, Bob Corker of Tennessee and Tom Coburn of Oklahoma -- along with 11 of 12 Democrats on the banking panel in the committee's 14-8 vote on Nov. 21.
Manchin Shift
Senator Joe Manchin of West Virginia was the only committee Democrat voting in opposition in the committee.
"Dr. Yellen is a very intelligent and capable nominee, but her views and beliefs to continue quantitative easing, despite a failure to see any real gains, greatly troubles me," Manchin said in a statement, referring to Fed bond purchases.
Manchin shifted to support Yellen in today's full Senate confirmation vote, saying "in light of recent news that the Fed will begin to taper" its bond purchases, "I now feel comfortable" supporting the new chairman.
Senator Elizabeth Warren, a Massachusetts Democrat, said in a statement that Yellen "has the right priorities, the right experience, and the right temperament to lead the Fed at this important time."
The Senate in January 2010 voted 70-30 to confirm Bernanke for a second term, the most opposition since the chamber started confirming Fed chiefs in 1978.
Clinton Alumna
A former University of California at Berkeley professor, Yellen was a Fed governor from 1994 to 1997, chairman of President Bill Clinton's Council of Economic Advisers from 1997 to 1999, and San Francisco Fed president from 2004 to 2010. She has served as the central bank's vice chairman since 2010.
Yellen's confirmation won praise from groups aligned with Democrats, including the AFL-CIO, the nation's largest labor federation.
"While austerity on Capitol Hill has needlessly and tragically prevented fiscal policy from helping the 99 percent, Yellen ensured that the Federal Reserve could mitigate the tragedy with robust monetary policy," AFL-CIO President Richard Trumka said following the vote. "As chair of the Federal Reserve, Janet Yellen will deepen the commitment to the Fed's 'dual mandate.' As a result, job creation will be prioritized as it deserves."
Support from groups that represent banks was more tepid. Rob Nichols, president of the Financial Services Forum, a Washington group representing the CEOs of 19 of the nation's largest financial institutions, said the group "looks forward to working with Chairman Yellen to ensure sound monetary policy, a safe and strong financial sector, and globally competitive financial markets that are able to fuel economic growth and job creation."
To contact the reporter on this story: Kathleen Hunter in Washington at khunter9@bloomberg.net
To contact the editor responsible for this story: Jodi Schneider at jschneider50@bloomberg.net