U.K. Executive Confidence Rises as BOE Rate Threshold Looms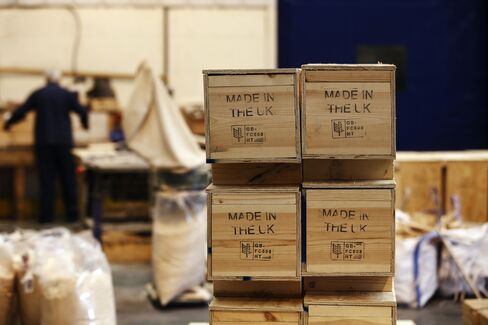 U.K. executives' confidence is improving, surveys show, signaling a strengthening recovery that may push unemployment closer to the level at which the Bank of England says it will review interest rates.
Chief financial officers are the most optimistic in 3 1/2 years and the risk appetite among big companies is at a six-year high, Deloitte LLP said in London today. In separate reports, the Institute of Directors and the EEF organization of manufacturers said their members predict the economy will improve this year.
"Uncertainty and credit shortages, two major blocks on business activity, have eased substantially," Ian Stewart, chief economist at Deloitte, said in a statement. "Expansion is firmly back on the agenda."
The EEF and Deloitte polls show companies expect their payrolls to pick up in 2014 as demand improves. U.K. unemployment was 7.4 percent in the quarter through October and BOE Governor Mark Carney has set 7 percent as a point to assess the policy stance. The central bank's Monetary Policy Committee holds its first meeting of the year this week and will keep its benchmark rate at a record-low 0.5 percent, according to a Bloomberg News survey of economists.
Services Growth
Services, factory and construction indexes this month indicate economic growth accelerated to 1 percent in the fourth quarter, Markit Economics said today even as its services index unexpectedly declined in December. The improving outlook has prompted traders to add to bets for higher interest rates.
In the Deloitte survey, 23 percent of CFOs surveyed expect the BOE to raise rates this year, with 69 percent forecasting a tightening in 2015. The Institute of Directors said 46 percent of directors "thought it was likely or very likely" that borrowing costs would be increased this year, while 33 percent said it was unlikely.
With the labor market improving, one option for Carney is to lower the unemployment threshold to 6.5 percent, according to Erik Nielsen at Unicredit Bank AG in London.
Rob Wood, a former BOE economist now at Berenberg, also says moving the threshold is a possibility, though postponing such a decision to next month, when policy makers will have new quarterly forecasts, "would be a better time."
Threshold Change
"Much more likely in our view is that the BOE will be more explicit that 7 percent is a threshold for considering a rate hike, not a trigger for one, rather than tying its hands to a dangerously low unemployment target and undermining its credibility," Wood said.
The EEF said 70 percent of manufacturers expect the economy to improve this year, versus 5 percent forecasting a deterioration. More than half of those surveyed by the Institute of Directors have "high confidence" in the U.K. outlook, compared with 7 percent with low confidence.
The Deloitte survey showed that while 60 percent of CFOs say the level of economic and financial uncertainty faced by their businesses is above normal, that's the lowest in more than three years. Expectations for hiring and capital spending have also improved. The consultancy surveyed 122 CFOs, including 32 from FTSE 100-listed companies, from Nov. 22 to Dec. 9.
In the manufacturing survey by lobby group the EEF, factory executives forecast industry growth of 2.7 percent this year after a 0.1 percent contraction in 2013.
Sixty-two percent forecast an improvement in industry conditions this year, while 53 percent expect their permanent staff numbers to increase. Most see only a "modest" increase, according to the poll. The EEF surveyed 200 companies from Nov. 3 to Nov. 23.
"Manufacturers are telling us they expect to make a greater contribution to growth, investment and jobs this year," Terry Scuoler, chief executive of EEF, said in a statement. "However, global uncertainty and rising energy costs pose significant risks."
Before it's here, it's on the Bloomberg Terminal.
LEARN MORE