Twitter Shares Drop as Morgan Stanley Cuts Rating to Sell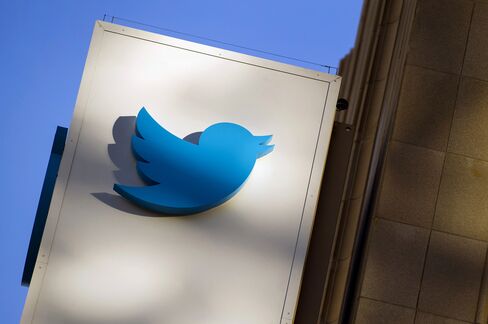 Twitter Inc. shares fell 3.9 percent after Morgan Stanley reduced its rating on the stock, saying the microblogging service may lose online advertising revenue to larger rivals like Facebook Inc.
Twitter dropped to $66.29 at the close in New York. The stock has more than doubled from an initial public offering price of $26 two months ago. The shares were cut to underweight, the equivalent of a sell rating, at Morgan Stanley, one of the banks that managed Twitter's IPO.
The company trades at a premium to peers such as Facebook and Google Inc., which have advantages in digital ad formats, said Scott Devitt, an analyst at Morgan Stanley, in a note today. Even with Twitter's push to generate sales through television partnerships, TV ad budgets are most likely to go to Google's YouTube and Facebook before Twitter, he wrote. Devitt has a price target of $33 on Twitter stock.
"As competition for online ad dollars intensifies, we guide investors to Google and Facebook, dominant platforms with more attractive risk/reward," Devitt wrote. "In our view, success is far from guaranteed at this early stage."
Google shares gained 1.1 percent to $1,117.32. Facebook rose 4.8 percent to $57.20, near its record closing price of $57.96, reached on Dec. 24.
Ad Revenue
Twitter's share of the U.S. digital advertising market may rise to 2.2 percent in 2015 from 1 percent last year, according to researcher EMarketer Inc. Facebook is projected to boost its share to 9 percent from 7.4 percent in 2013. Google, already the dominant seller of online ads, may expand its piece of the U.S. market to 42.3 percent next year from 39.9 percent last year, EMarketer estimates.
At least five other analysts have downgraded San Francisco-based Twitter in recent weeks as the shares surged following its IPO, sending its market value to more than $35 billion. Nine analysts now recommend selling the stock, while 12 advise holding it and six rate it a buy, according to data compiled by Bloomberg.
Twitter, whose service lets people post 140-character messages along with photos and videos, may not gain the mainstream popularity its investors are predicting, Morgan Stanley's Devitt wrote today. He cited Pew Research Center's Internet project, which found that 90 percent of Twitter users are also on Facebook's social network, while just 22 percent of Facebook's users are active on Twitter. Twitter has more than 230 million users, or about a fifth as many as Facebook, and is depending on boosting that number to increase its relevance to marketers.
'More Complicated'
"There is still a risk that Twitter remains a niche product," Devitt said. "Despite the ease at which users can sign up for Twitter, we think it is inherently more complicated to understand how to get the most out of Twitter, compared to Facebook's service, which is easier to use."
Twitter updated its product in December to give advertisers more ways to reach an audience based on words they use in their posts and based on what they have browsed online. The company also allowed images to appear more prominently on the site, appealing to brands trying to capture consumers' attention.
Before it's here, it's on the Bloomberg Terminal.
LEARN MORE