The World's Most Expensive Fish Just Got Cheaper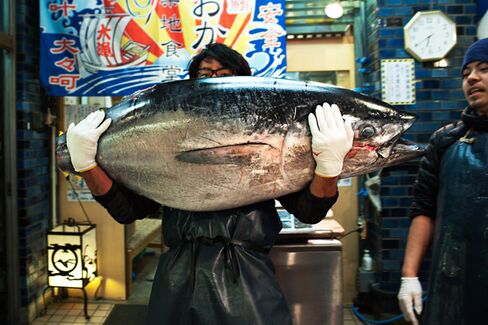 Even as he tries to fight deflation in Japan, Prime Minister Shinzo Abe may have just succeeded in driving down prices at one of the country's most famous sales. On the first day of business at Tokyo's Tsukiji market after the New Year's holiday, the winning bid for the top fish, a 507-pound bluefin tuna, was just 7.36 million yen ($70,600). The auction's winner was Kiyomura, a Tokyo-based sushi chain, which paid 95 percent less than the record price from a year ago.
Until recently, the price for the Opening Day bluefin had soared thanks largely to competition between Kiyomura and foreign chains such as Hong Kong-based rival Itamae Sushi. In 2011, Itamae won the big fish, making it three years in a row that a non-Japanese buyer upstaged locals at the country's premier fish auction.
So when Kiyomura paid a then-record 56 million yen for a bluefin at the Tsukiji auction in 2012, a company spokesman explained the importance of a local company coming in first for a change. The win is "about the Japanese spirit," he told Bloomberg News. A year later, to keep the foreigners from winning, Kiyomura went even higher, paying a record-breaking 155.4 million yen for the world's most expensive fish.
With relations between Japan and its neighbors so sour, though, today it takes much less to top the foreigners. The 2014 auction took place less than two weeks after Abe's controversial visit to the Yasukuni Shrine, the Shinto site in Tokyo that honors Japan's war dead—including some war criminals from World War II. China and South Korea both criticized the move, the first visit by a Japanese premier since 2006. "Some Japanese politicians, on the one hand, pay lip service to freedom and peace, and on the other hand they are raising the banner to call upon the dead soul of militarism by beautifying aggression and colonial history," Chinese Foreign Ministry spokesman Qin Gang told reporters after Abe's Dec. 26 visit to Yasukuni.
Abe's move capped off a year of deteriorating ties between Japan and its neighbors, with Chinese and Koreans squabbling with the Japanese over territorial disputes and the legacy of Japan's colonial policies from before the war. While Abe is now trying to reach out to China and Korea, he won't have an easy time winning them over. And in the past, Japanese products have been shunned by Korean and Chinese consumers when such geopolitical tensions rise. "Holding talks with China and South Korea is extremely important for the peace and stability of the region," Abe said at his first press conference of the year. "When there is a difficult problem, it is all the more necessary for leaders to open up and talk without preconditions."
South Korean and Chinese leaders aren't convinced. For instance, South Korean President Park Geun Hye responded today at a press conference, telling reporters "I feel sorry that the environment for cooperation repeatedly gets shattered at a time when the cooperation between the two countries should be expanding."
The Chinese were even more direct in rejecting the Japanese prime minister's overture. "We can see that although Abe paid lip service that he focuses on the relationship between China and Japan, actually he is a hypocrite," Foreign Ministry spokeswoman Hua Chunying told reporters. "He himself has closed the door of dialogue between China and Japan. The Chinese people don't welcome him."
Which leads us back to Tsukiji. It's possible there are other explanations for the plunge at the fish market's auction. Hong Kong's South China Morning Post reports on several, courtesy of the chairman of the Chinese city's Chamber of Seafood Merchants, including the weak yen and the increase in bluefin supply from Japanese waters.
But the high prices in years past were about prestige, not supply and demand. Given the state of Japan's relations with China and South Korea, foreign chains may have reasonably decided there is now little to be gained by getting into a bidding war for a Japanese fish.
Before it's here, it's on the Bloomberg Terminal.
LEARN MORE