Kerry Says 'Mistrust' Won't Derail Israeli-Palestinian Talks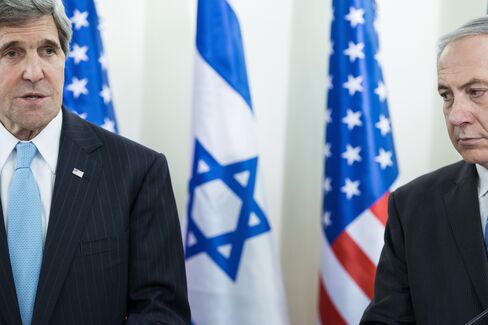 U.S. Secretary of State John Kerry expressed optimism today that a "high level of mistrust" between Israeli and Palestinian officials won't impede the progress he sees in peace talks.
"I know that there are those out there who, on both sides, question whether peace is possible," Kerry told journalists in Jerusalem today. "But it is clear to me that we can work to bridge the remaining gaps that do exist." He spoke after 12 hours of meetings over the weekend with Israeli Prime Minister Benjamin Netanyahu and eight with Palestinian President Mahmoud Abbas.
Kerry, on his 10th trip to the area, called the visit a "productive couple of days" in his bid to produce an agreed Israeli-Palestinian framework to guide negotiations on a final peace treaty.
The framework accord would address all issues at the heart of the conflict and establish "the fixed, defined parameters by which the parties would then know where they are going and what the end result can be," he said Jan. 2.
In a sign of the mistrust Kerry mentioned, Netanyahu told his cabinet that Palestinian incitement against Israel persists.
"First and foremost, we see continued opposition to recognition of the Jewish state," he said at the weekly cabinet meeting, in remarks broadcast on Israel Radio. Netanyahu has insisted the Palestinians recognize Israel as a Jewish state to avert any future claims against it after a final peace deal is signed. The Palestinians object, saying that would mean surrendering rights of Palestinian refugees who lost homes in present-day Israel.
Assassination Suspicions
In an interview with the London-based daily Asharq al-Awsat published Jan. 3, Palestinian negotiator Saeb Erekat suggested Israel may be laying the groundwork to assassinate Abbas. Erekat repeated claims in some Palestinian quarters that the late Palestinian leader Yasser Arafat, who died in 2004, had been poisoned, and implied Abbas may meet the same fate.
"Before Arafat was killed by poison, there were calls" in a previous Israeli government to "get rid" of Arafat, the newspaper quoted him as saying. "They are repeating the same thing now," he said, citing Israeli Foreign Minister Avigdor Liberman as telling European leaders Abbas should be removed.
Two panels of international experts have ruled out the poisoning hypothesis, while a third said tests "reasonably support" it.
Jordan Valley
While details of the negotiations are being kept secret, one area of disagreement that has emerged publicly concerns future security arrangements in the Jordan Valley section of the West Bank. The Palestinians claim the area for a future state, while Israel insists its forces must remain in the area even after a handover, to safeguard its eastern flank.
Israeli Minister of Intelligence and Strategic Affairs Yuval Steinitz said his government will reject other proposals, including relying on Palestinian security forces, international troops or electronic monitoring systems.
"One thing is clear to us: Our security has to remain in our own hands," he said.
Even if Netanyahu agrees to Kerry's proposals, he will face opposition within his own government. Ayelet Shaked, a lawmaker from the Jewish Home party, told Israel Radio today that the faction, parliament's third-biggest, would quit the government if it agreed to base future borders of a Palestinian state on the lines Israel held before capturing the West Bank, east Jerusalem and Gaza Strip in 1967. Israel withdrew forces and settlers from Gaza in 2005.
The Palestinians have demanded that any deal base border negotiations on the 1967 lines, which Netanyahu has termed "indefensible." The U.S. has agreed, provided it also mention territorial swaps that could account for some of the biggest Israeli settlements in the West Bank.
Before it's here, it's on the Bloomberg Terminal.
LEARN MORE