HTC Profit Misses for a Fourth Quarter as Slump Continues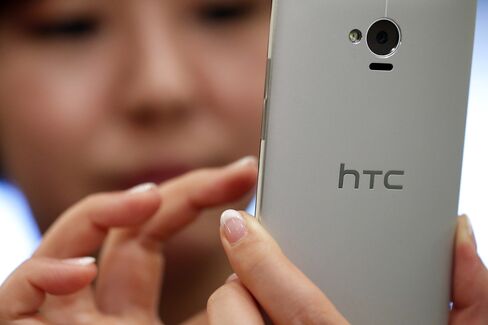 HTC Corp., Taiwan's largest smartphone maker, posted net income that missed analyst estimates for a fourth consecutive quarter as rising competition from Chinese brands led to a decline in sales.
Fourth-quarter net income was NT$310 million ($10 million), the Taoyuan, Taiwan-based company said in a statement yesterday, missing the NT$694 million average of 20 analysts' estimates compiled by Bloomberg. Operating loss of NT$1.56 billion was narrower than the NT$1.72 billion loss average of estimates. Shares fell to the lowest since October.
HTC's release of its One Max phone failed to halt a nine-quarter slide in sales as China's Lenovo Group Ltd. and Huawei Technologies Co. gained market share even as the Taiwanese company signed Hollywood star Robert Downey Jr. to promote its brand. HTC's ability to turn around three years of share declines may hinge on the sale of 4G smartphones through China Mobile Ltd. and the success of its next major handset to be announced this quarter.
"They need to get a good review for their flagship model and they can't afford to have any supply chain problems like last year," said Dennis Chan, an analyst at Yuanta Financial Holding Co. in Taipei who recommends investors sell the stock. "They have to perform on both the high-end and the low-end."
HTC dropped 3.6 percent to NT$133.50 as of the close of trade in Taipei, the lowest since Oct. 21. The stock fell 53 percent last year after a 40 percent drop in 2012. Taiwan's benchmark Taiex index declined 0.5 percent today.
Lackluster Demand
Revenue for the quarter fell 29 percent to NT$42.9 billion, compared with the NT$43 billion average of analyst estimates and the company's own NT$40 billion to NT$45 billion forecast given on Nov. 5.
HTC's net income has met expectations only once in the past two years, while sales have lagged behind analyst estimates for almost three years, according to data compiled by Bloomberg. Profit from the sale of its 24.84 percent stake in Beats Electronics LLC helped HTC avoid its second loss on record.
"The weakness in top-line was due to the lackluster demand of its new flagship model HTC One Max and the mid-range Desire-series models," Kylie Huang, a Taipei-based analyst at Daiwa Securities Group Inc. wrote in a note today.
Fourth-quarter earnings means HTC posted its first annual loss in 2013, after reporting its first quarterly loss of NT$2.97 billion in the the three months to Sept. 30, according to Bloomberg calculations.
Beats Sale
The earnings announcement was made on a Sunday afternoon, outside normal Taiwan business hours, and it was the second consecutive quarter that HTC posted its financial results at an unscheduled time. Chief Financial Officer Chang Chialin didn't respond to e-mailed questions while investor relations and public relations officials declined to comment on the results.
Chang, who joined the company in 2012, last month was appointed to the concurrent role of global head of sales as the company looks to develop new distribution channels to drive revenue.
HTC in September said it will sell its remaining stake in Beats for $265 million, booking a $85 million pretax profit from the transaction. Beats will also repay a $150 million loan with interest, it said at the time.
"We view 2014 could be a worse year for HTC as the benefit from the cooperation with China Mobile and its recent changes, if any, could be offset by the fiercer competition from leading OEMs and China brands," Daiwa's Huang wrote.
HTC One, a thin, metal-encased handset released in the U.S. in April, received positive reviews while sales were crimped by production delays including a shortage of parts.
One Max, modeled on HTC One and released in October, became HTC's largest handset, with a 5.9-inch (15-centimeter) screen, fingerprint sensor and HTC Zoe video highlights function. The device was the company's only major release for the quarter, with updated versions of its Desire series also going on sale.