Rosengren Says Fed Needs to Be Patient in Removing Stimulus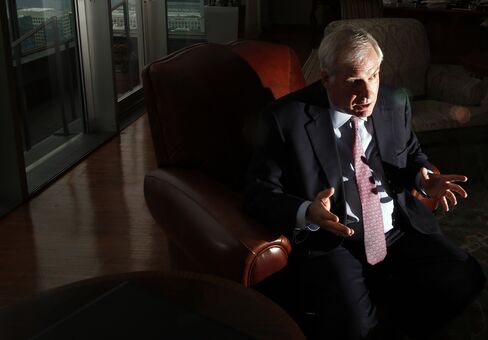 Federal Reserve Bank of Boston President Eric Rosengren, who cast the lone dissent last month against a Fed decision to taper bond buying, said policy makers shouldn't rush to cut stimulus with inflation below 2 percent.
"With the inflation rate below target and the unemployment rate significantly above target, we believe strongly that monetary policy makers have the opportunity to be patient in removing accommodation," Rosengren said today on a panel discussion at the American Economic Association's annual meeting in Philadelphia. "This was one of the motivations for my dissenting vote."
Consumer prices rose 0.9 percent in November from a year earlier, according to an inflation measure watched by the Fed. The central bank aims for inflation of about 2 percent.
The Federal Open Market Committee in December decided to taper bond buying to $75 billion a month from $85 billion, citing an improvement in the outlook for the labor market. It was the first reduction in a program intended to boost growth and put Americans back to work after the worst recession since the 1930s.
Policy makers -- scheduled to meet Jan. 28-29 -- will probably reduce purchases in $10 billion increments over the next seven meetings before ending them in December, according to a Bloomberg News survey of economists after the FOMC announced its tapering on Dec. 18. The Fed through bond buying has expanded its balance sheet to $4.02 trillion.
"Even if we were not significantly undershooting our inflation target, there would still be a significant argument for monetary policy remaining highly accommodative," said Rosengren, who doesn't vote on policy this year.
'Group Think'
Rosengren, speaking on a panel with Philadelphia Fed President Charles Plosser and Federal Reserve Bank of New York President William C. Dudley, said Boston Fed research played an important part in prompting his dissent. Plosser said Fed district bank economists help avert central bank "group think."
Dudley said more work is needed to explain how bond buying by the Fed has helped support the recovery.
Dudley, answering an audience question, also said the central bank's biggest challenge is timing the start of its exit from unprecedented stimulus. In prepared remarks, he said Fed economists need to better understand how bond buying works to spur economic growth.
"We don't understand fully how large-scale asset purchase programs work to ease financial market conditions," he said. "Is it the effect of the purchases on the portfolios of private investors, or alternatively is the major channel one of signaling?"
Unemployment 'Riddle'
Dudley also said central bank economists confront a "riddle" on whether the decline in U.S. unemployment to 7 percent in November will reverse as more workers return to the labor force.
The New York Fed chief said the central bank may decide to extend a program involving so-called reverse repurchase transactions aimed at giving it greater control over short-term borrowing costs.
The new tool, called the fixed-rate, full-allotment overnight reverse repurchase facility, is intended to put a floor under short-term money-market rates. It allows banks, broker-dealers, money-market funds and some government-sponsored enterprises to lend the Fed unlimited amounts of cash overnight at a fixed rate in exchange for borrowing Treasuries in reverse repo transactions.
"We could decide at some future date to make it operational," Dudley said in response to an audience question.
Diffuse Structure
Plosser said it's important for central bankers to avoid "group think" in making policy. The 100-year-old Fed system's "diffuse governance structure" helps ensure diversity of opinion by distributing authority among governors in Washington and presidents in the Fed's 12 regional banks, he said.
"It's cumbersome," said Plosser, who holds a policy vote in 2014. "It's not always terribly efficient."
Fed Chairman Ben S. Bernanke said yesterday in a speech at the conference that headwinds that have held back the economy may be abating, leaving the country poised for faster growth as his tenure as Federal Reserve chairman comes to an end.
"The combination of financial healing, greater balance in the housing market, less fiscal restraint, and, of course, continued monetary policy accommodation bodes well for U.S. economic growth in coming quarters," Bernanke said.
The panel discussion by the three regional Fed presidents was moderated by former Bank of Israel Governor Stanley Fischer.
Minneapolis Fed President Narayana Kocherlakota, who votes on policy this year, released remarks underscoring the importance of research at the Fed district banks. He missed the panel discussion because of flight cancellations caused by winter weather, the Minneapolis Fed said.
Before it's here, it's on the Bloomberg Terminal.
LEARN MORE