Pound Falls Second Day Versus Dollar After Reaching 2-Year High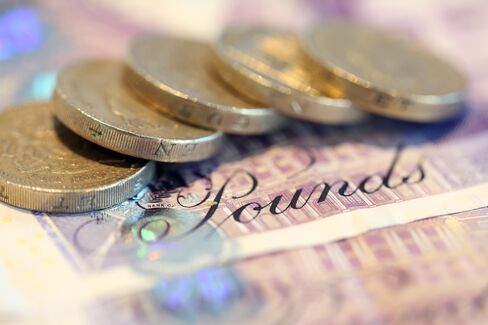 The pound weakened for a second day against the dollar, ending a rally that had propelled the currency to the strongest in more than two years yesterday.
Sterling posted its first weekly decline in three weeks versus the U.S. currency as a survey of purchasing managers released yesterday showed a gauge of manufacturing unexpectedly fell, while data today showed construction output cooled in December. The pound strengthened versus the euro today and remained the best performer in the past six months among 10 developed-nation currencies tracked by Bloomberg Correlation-Weighted Indexes. U.K. government bonds completed a weekly gain.
"U.K. data will continue to generally support the pound but there's a risk that the market is over-anticipating the strength of the U.K. data just as we saw yesterday with the PMI manufacturing number," said Jane Foley, a senior currency strategist at Rabobank International in London. "The pound will be able to hold its own against the dollar over the next couple of months but by the end of the year the dollar will have fought back."
The pound fell 0.2 percent to $1.6422 at 4:35 p.m. in London after climbing to $1.6603 yesterday, the highest since August 2011. The currency dropped 0.4 percent this week. Sterling strengthened 0.3 percent to 82.87 pence per euro after rising as much as 0.4 percent.
Construction Slows
A measure of U.K. construction output slipped to 62.1 in December from 62.6 the previous month, according to Markit Economics, still above the level of 50 that indicates growth. Manufacturing activity fell to 57.3, Markit said yesterday. Economists surveyed by Bloomberg News forecast the factory index would match November's 33-month high of 58.4.
The pound dropped versus the dollar even after data today showed U.K. house prices rose last month.
Home values gained 1.4 percent last month after rising a revised 0.7 percent in November, Nationwide Building Society said. Mortgage approvals increased to 70,800 in November, the most since January 2008, the Bank of England said in London. The government said yesterday almost 1 billion pounds of mortgages had been sought under its Help-to-Buy program that provides cheap home loans.
The pound has gained 5.7 percent in the past six months, the best performer among 10 developed-nation currencies tracked by Bloomberg Correlation-Weighted Indexes. The euro appreciated 2.6 percent, while the dollar fell 2.4 percent.
BOE Meeting
Bank of England officials will keep their key interest rate at a record-low 0.5 percent and their asset-purchase target at 375 billion pounds when they announce their next policy decision on Jan. 9, according to all of the economists surveyed by Bloomberg News.
"The Bank of England appreciates that the U.K. economy is doing very well and you only have to look at the housing market to appreciate that things are starting to look frothy in some sectors," said Neil Mellor, a currency strategist at Bank of New York Mellon in London. "The market is looking to buy sterling on any excuse to do so from strong data. It's gradually going to force the Bank of England to bring forward its presumptions about policy tightening and that's really one of the reasons why sterling has done fairly well for the last few months."
The benchmark 10-year gilt yield was little changed at 3.03 percent. The price of the 2.25 percent bond maturing in September 2023 was 93.53. The yield fell five basis points, or 0.05 percentage point, this week.
U.K. gilts handed investors a loss of 3 percent in the 12 months through yesterday, according to Bloomberg World Bond Indexes. German securities fell 1.4 percent and U.S. Treasuries declined 2.9 percent.
Before it's here, it's on the Bloomberg Terminal.
LEARN MORE