In Winter Storms, Humans Are as Risky as Mother Nature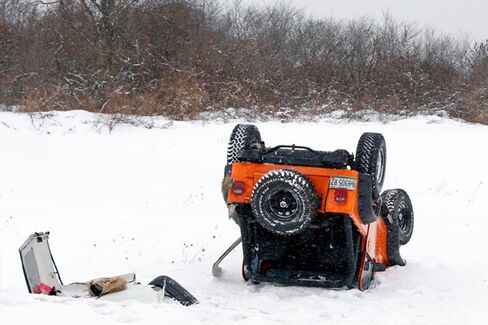 As much of the East Coast hunkers down for blizzard-like conditions, it might seem like winter is the costliest time of year for insurers. In general, it's not. While claims from catastrophic U.S. weather cost insurers $35 billion in 2012, according to the Insurance Information Institute, only a fraction was because of winter storms. In fact, Munich Re says 2012′s winter storms cost a mere $38 million. Cyclones, thunderstorms, drought, and even wildfire cost much more. The most exposed state to hurricane loss that year was not Florida but New York, with $2.9 trillion of insured coastal property.
Of course, volatile weather creates wild swings in fortunes. A lull in winter's wrath in 2012 was followed by a year that saw a ferocious nor'easter in February (dubbed "Nemo" by the Weather Channel) that dumped 40 inches of snow in some areas and ended with a devastating ice storm that left many without power. That means 2013 could ring up more than the average $1.4 billion in insured losses from winter storms over the past two decades.
So what about 2014′s first storm? The full tally won't be known until the storm passes. Massachusetts, long hit hard by nor'easters, has taken steps to minimize the human cost by sending state workers home early and canceling school in Boston on Friday. New York and New Jersey officials declared a state of emergency, urged people to stay home, and said several highways will be closed overnight. Officials from Michigan to Maine have made similar moves.
That's the kind of reaction insurers like to see, as fewer people on the road mean fewer accidents and fewer people at risk of hypothermia should they become stranded by bad weather. While that doesn't prevent power outages, collapsed roofs, frozen pipes, tidal surges, or downed trees, it does help to minimize damage. Traffic accidents are the leading cause of death in winter storms.
Then there's the challenge of what they do at home. The second-leading cause of death during winter storms? Not falling limbs or an avalanche, according to the Federal Emergency Management Agency, but overexertion. In their rush to shovel snow, people exhaust themselves and bring on deadly heart attacks. Some also unwittingly poison themselves with carbon monoxide by using ovens or bringing in their barbecue to heat a chilly home. Others die of smoke inhalation or burns because of fires started by candles, heaters, or sparks from their fireplace—something a proper alarm system and some basic education can help to prevent.
Before it's here, it's on the Bloomberg Terminal.
LEARN MORE