Erdogan Crisis Adds Fuel to 2013 Bond Rout: Turkey Credit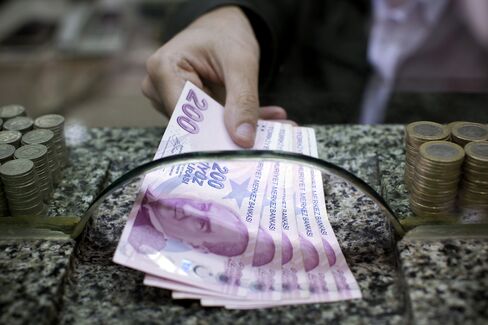 Jan. 2 (Bloomberg) -- The selloff that sent Turkish local-currency debt plunging five times more than emerging-market peers last year is showing few signs of easing, amid a standoff between Prime Minister Recep Tayyip Erdogan and the judiciary.
Turkey's lira-denominated debt lost 20 percent in 2013, the most after Indonesia and compared with a drop of 4 percent in a Bloomberg portfolio of bond returns for 31 developing nations. Two-year yields jumped 98 basis points in December and the lira fell the most since September 2011 as a corruption probe embroiled Erdogan's cabinet and led three ministers to quit.
While the rout pushed two-year and 10-year yields above 10 percent, the rates adjusted for inflation remain below similar-maturity Brazilian notes, damping their appeal to investors, according to Manik Narain, a strategist at UBS AG. The investigation is deepening the conflict between the government and followers of U.S.-based Islamic cleric Fethullah Gulen, who are influential in the judiciary and police force.
There's a "risk of more unwinding of positions," Narain said by e-mail on Dec. 30. "The political turbulence is worrisome as both Gulenists and Prime Minister Recep Tayyip Erdogan have a huge amount of support. Thus, an extended conflict can be very damaging."
Under Pressure
Turkish assets have faced pressure since mid-2013 as part of a wider rout in emerging markets triggered by Federal Reserve plans to trim its $85 billion monthly bond-buying program, with policy makers agreeing on the first reduction last month. Anti-government protests in the summer and the corruption probe contributed to hurting investor confidence in the nation of about 80 million people, which won investment-grade standing at Moody's Investors Service last May.
Political developments may keep two-year yields at "current levels" in the first quarter, Inanc Sozer, an economist at Odea Bank AS in Istanbul, said by e-mail on Dec. 30. "The attractiveness of Turkish debt may decline in line with the general investor interest in fixed-income securities."
The two-year yield has climbed more than a percentage point since the sons of three ministers and the head of state-run Turkiye Halk Bankasi AS were arrested on Dec. 17 amid probes into bribery, money laundering, gold smuggling and corruption in government tenders.
'Buying Opportunity'
The yield increased to 10.24 percent at 6:34 p.m. in Istanbul, compared with 6.16 percent a year earlier. Annual inflation was 7.3 percent in November, above the central bank's 5 percent target. The statistics office in Ankara will release December inflation data tomorrow.
Double-digit short-term rates have "definitely created a buying opportunity," Sozer said. Yields are the second-highest after Brazil's among 19 developing countries monitored by Bloomberg. "Buying starting from mid-January could yield a profit over the next four to six months."
How the political standoff unfolds this year could continue to be a drag on Turkish assets, according to Narain of UBS. If the conflict takes on a constitutional dimension, the ensuing demand for dollars would stoke inflation, he said.
Erdogan, who labeled the probe as an attempted coup, fired hundreds of police chiefs and replaced 10 ministers in his 26-member cabinet last week. Hami Yildirim, a member of parliament for Erdogan's ruling AK Party, resigned from the party two days ago, saying government was attacking the judiciary instead of focusing on rooting out corruption, the Cihan news agency reported.
Political Risks
To stem the lira's slide, the central bank pledged on Dec. 24 to sell at least $6 billion through the end of January, while adjusting reserve-requirement ratios starting this month to make it more costly for lenders to park funds in its coffers. The currency, which plunged 17 percent last year, has lost 6.7 percent versus the dollar since the investigation began. It weakened 1.1 percent to 2.1713 a dollar today.
Central bank Governor Erdem Basci has hesitated to raise interest rates to avoid choking economic growth, which stood at 3.7 percent last year, compared with an average of 5.2 percent in the decade through 2012, according to estimates compiled by Bloomberg. He may need to change this policy to lure investors, analysts including Piotr Matys of 4Cast Ltd. in London, said this week.
The 10-year bond yield climbed four basis points to 10.41 percent on Dec. 31, taking its 2013 advance to 374 basis points.
"I would be more patient for further tightening before buying," Narain said.
To contact the reporter on this story: Taylan Bilgic in Istanbul at tbilgic2@bloomberg.net
To contact the editor responsible for this story: Daliah Merzaban at dmerzaban@bloomberg.net