Don't Exercise With Co-Workers or Clients
Exercising with co-workers or clients is a bad idea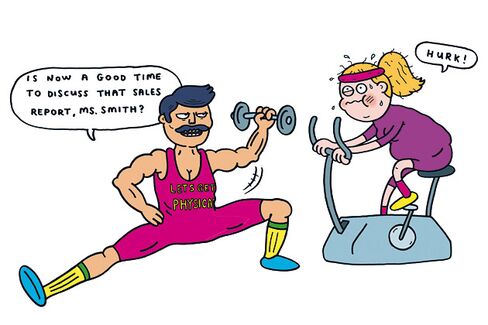 We e-mail from our beds, tote our laptops home for the holidays, and ensure the ski cabin has Wi-Fi. The only time we're ever untethered is at the gym, when our smartphone's in the locker and our mind's consumed with not falling off the treadmill. Working out is our last respite from our colleagues, the one place we are truly alone.
It used to be, at least. Group fitness programs such as Physique 57, Barry's Bootcamp, and CrossFit, not to mention countless peppy cycling studios, have outpaced the megagyms of the last decade, and their emphasis on community and team building has bled into the corporate sphere. "Salespeople have stopped winning clients with a four-course dinner or hours of drinks," says Gabby Etrog Cohen, the director of marketing at SoulCycle spinning studios. "Instead, they just book a class."
Sweating indoors can be expensive, especially in a city, so these fitness freebies increasingly trump other swag. Tough Mudder—its grueling obstacle course includes 15-foot muddy walls and a field of live electric wires—provides discounts and travel packages to employee teams sponsored by Goldman Sachs, Bain, PricewaterhouseCoopers, and dozens of other massive companies. These groups "make up a noticeable percentage of every start wave," says Tough Mudder Director of Sales Matt Hirschbiel. Flywheel became so popular among Microsoft employees that the company had the indoor cycling chain open a location on its Redmond (Wash.) campus. And SoulCycle is offering discounted corporate-entertainmentpackages that include advance bike reservations during busy after-work hours and a highly tweetable slogan: "Sweatworking is the new networking." Even at $45 per class, sweatworking is still easier on a tightened expense account than a bottle of Barolo.
There's a reason business outings often come with booze. Socializing with co-workers and clients is already awkward. How could it possibly be a good idea to add in a public changing room, spandex, and the occasional grunt? "You spend all this time cultivating professional relationships, and then they see you at your most vulnerable," says Ariel Moses, a communications executive, recalling a particularly difficult Bar Method class she took with two work contacts. "They're not judgmental, at all, but I was judging myself more."
At least once a month, an e-mail arrives from a business acquaintance who wants to "catch up" over the latest trendy fitness craze. I either ignore these requests or lie and say I've decided to quit exercise cold turkey. A drink? Fine. A workout? Not happening.
Fitness, like its closest cousin, athletics, always comes with an undercurrent of competition. That's beneficial when you're training for a marathon or trying to lose weight. But most of us are already striving to outperform our colleagues on a daily basis. Adding more rivalry—Bob is the best spinner, Kate fell off the Tough Mudder wall, John is so damn slow—is unnecessary at best and destructive at worst. You're better off pretending the invite went to your spam folder or ducking out of work early when everyone's putting on their short-shorts. If you see co-workers at your gym, switch gyms. If you can't do that, nod from afar. Don't engage, even positively, as it just gets weird: "Once, I said to my co-worker, 'I want to have abs like yours,' " remembers David Perez, who works in public relations. "It did not go over well."
The biggest issue isn't the workout itself, it's what happens after. "I once ran into my boss in the showers, totally naked, and he wanted some exercise advice from me," says Kivanc Ozdemir, a hotel executive. He told his manager that he should try more cardio. "Obviously, I saw him differently after that."
Before it's here, it's on the Bloomberg Terminal.
LEARN MORE