Brazil Posts Worst Trade Balance Since 2000 as Imports Surge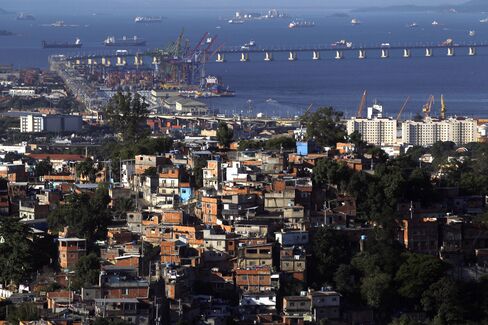 Brazil last year posted the worst trade balance since 2000 as consumer demand boosted imports and slower global growth crimped sales abroad.
Latin America's biggest economy had a trade surplus of $2.56 billion, the Trade Ministry said in a report posted on its website today. Imports in 2013 rose 6.5 percent on a daily average, totaling $240 billion for the year, and exports dropped 1 percent to $242 billion. That's the worst performance since Brazil had a trade deficit in 2000.
Brazil reported a trade surplus of $2.65 billion in the last month of the year, exceeding forecasts for a $1.5 billion surplus made by economists surveyed by Bloomberg.
The economy grew 2.3 percent last year, more than double the pace of 2012 while still trailing the Latin American average of 2.37 percent, according to analysts polled by Bloomberg. Retail sales have outpaced gains in gross domestic product, expanding an average 4 percent in the first 10 months of 2013 as the jobless rate dropped.
The trade balance will improve this year on increased production of oil and grain and a more "beneficial" exchange rate, Foreign Trade Secretary Daniel Godinho told reporters in Brasilia. Risks include slower growth in developed nations and China, he said.
The real, which depreciated 13.3 percent last year, fell 1.2 percent to 2.3909 per U.S. dollar at 5:01 p.m. local time.