Train Carrying Oil in North Dakota Ablaze After Derailing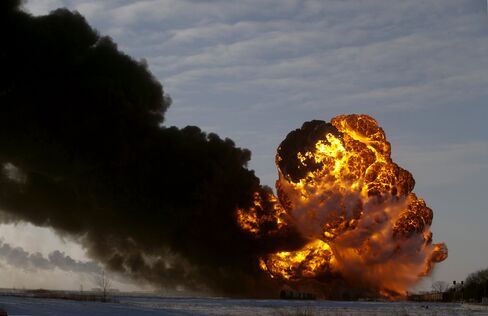 Thousands of North Dakota residents were urged to flee possibly toxic fumes from a fire that engulfed BNSF Railway Co. railcars carrying crude oil after it collided with another train, causing a series of explosions.
Two to three railcars were still burning and 1,500 residents living within a five-mile radius of Casselton, North Dakota, heeded warnings to evacuate, Tara Morris, a spokeswoman for the Cass County Sheriff's Office said at a press briefing at 10 a.m. North Dakota time today.
No injuries to the train crews were reported in the accident that occurred at 2:10 p.m. local time yesterday about 25 miles (40 kilometers) west of Fargo, Berkshire Hathaway Inc.'s BNSF said in a statement. A U.S. National Transportation Safety Board team is on the scene to investigate while BNSF contractors are monitoring air quality, Morris said.
The crash likely will restart a debate over the safety of transporting oil by rail. The accident is the fourth major North American derailment in six months by trains transporting crude. Record volumes of oil are moving by rail as shale from North Dakota to Texas have pushed U.S. output to the most since 1988 and pipeline capacity has failed to keep up.
About 65 percent of the 2,400 residents of Casselton left their homes as BNSF crews cleaned up debris while waiting for fires in two or three railcars to burn out, Morris said.
Oil Shipments
BNSF, based in Fort Worth, Texas, didn't provide an estimate for when the tracks will reopen. Berkshire's Burlington Northern Santa Fe railroad carried about 500,000 barrels of oil a day in March, Chief Executive Officer Warren Buffett said at the time.
Continental Resources Inc., the largest leaseholder in North Dakota's Bakken shale field, sees "slight delays" in shipments for several days from the region due to the fire, company spokesman Warren Henry said in a telephone interview today.
Oil produced in North Dakota's Bakken formation for delivery at Clearbrook, Minnesota, was unchanged at a discount of $8.25 a barrel versus U.S. benchmark West Texas Intermediate crude yesterday, data compiled by Bloomberg show.
NTSB said in a statement it had sent Richard Hipskind, a rail safety specialist, to serve as the investigator-in-charge. Board member Robert L. Sumwalt is accompanying the team and will serve as the principal spokesman during the on-scene phase of the investigation, the NTSB said.
Environmental Debate
A westbound train carrying soybeans derailed west of Casselton just after 2 p.m., said Cecily Fong, a spokeswoman for the state Emergency Services Department. An eastbound train carrying oil hit the derailed train, causing the fire, she said.
The train carrying crude included 106 cars, BNSF said. About half of the cars detached from the wreck and the rest were involved in the accident, Fong said.
One railcar can hold about 700 barrels of oil, according to the Energy Information Administration, the Energy Department's statistical arm.
The Federal Aviation Administration banned flights below 6,000 feet (1,829 meters) above sea level in the area of the incident, citing possible tank car explosions.
In November, a train carrying oil to the Gulf Coast from North Dakota derailed in Alabama, touching off fires. A month earlier, residents were evacuated from a rural area of Alberta after 13 railcars, four of which were carrying crude, derailed and ignited a blaze.
In July, a runaway train transporting crude exploded and killed 47 people in the Quebec town of Lac-Megantic.
The derailment "is likely to flare up the debate on the environmental side of the shale oil boom, which could result in higher costs for the industry," JBC Energy GmbH, a Vienna-based energy consultant, said in an e-mailed report today.
Before it's here, it's on the Bloomberg Terminal.
LEARN MORE