Schiano Joins Shanahan Among NFL Coaches Fired at Season's End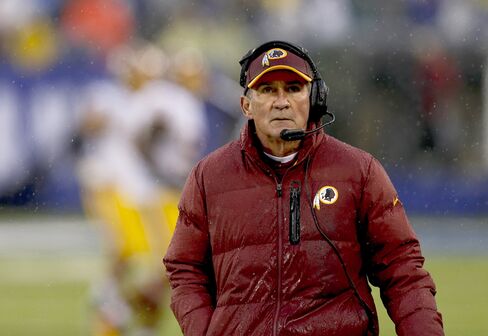 Mike Shanahan of the Washington Redskins and Greg Schiano of the Tampa Bay Buccaneers were among five National Football League coaches fired a day after the end of the regular season.
Leslie Frazier of the Minnesota Vikings, Jim Schwartz of the Detroit Lions and the Cleveland Browns' Rob Chudzinski were also let go yesterday.
Shanahan was fired after four seasons as the Redskins lost their final eight contests to finish at 3-13, while the Buccaneers started 0-8 under Schiano and went 4-12. Chudzinski said he was "shocked and disappointed" about being dismissed after compiling a 4-12 record in his lone season with the team. Frazier was ousted after a 5-10-1 Vikings campaign that followed a 10-6 performance in 2012, and Schwartz's Lions lost six of their final seven games to miss the playoffs at 7-9.
"Quite simply, we didn't win enough football games," Lions President Tom Lewand said at a news conference.
Dennis Allen of the Oakland Raiders, Mike Munchak of the Tennessee Titans, Jason Garrett of the Dallas Cowboys and Joe Philbin of the Miami Dolphins are among other NFL coaches out of the playoffs waiting to meet with ownership to find out whether or not they'll be back next season.
"I haven't been told that I won't," Allen said yesterday, a day after the Raiders completed a 4-12 season. "I fully anticipate and fully expect to be the coach of the football team and that's the way I'm moving forward."
New York Giants 67-year-old coach Tom Coughlin, whose team finished 7-9 after an 0-6 start, said he wants to return after his first losing season since 2004. Giants General Manager Jerry Reese said he wants Coughlin, who's won two Super Bowl titles in New York, back on the sidelines next season.
Giants' Meetings
"We do have meetings scheduled throughout this week, perhaps this week, with ownership and management and we'll try to evaluate everything at that point in time," Coughlin said yesterday. "I'm sure there will be many, many questions asked about going forward, so we'll talk our way through some of those, I'm sure, at another point. I do want to coach."
Both Schiano and Tampa Bay General Manager Mark Dominik were fired after the Buccaneers regressed by three wins after going 7-9 in Schiano's first season as coach in 2012. The former Rutgers University coach had a 11-21 record.
"The results over the past two years have not lived up to our standards and we believe the time has come to find a new direction," team co-chairman Bryan Glazer said in a statement.
Schiano has deflected questions about whether he'd be interested in the coaching job at Penn State University if it becomes available. ESPN reported that the Houston Texans are in talks to hire Penn State's Bill O'Brien after going 2-14 and getting the No. 1 pick in the 2014 NFL draft.
Shanahan's Tenure
Shanahan, who won two Super Bowl titles during an 18-year stay with the Denver Broncos, went 24-40 with one playoff appearance over four seasons with the Redskins. His future with the team was hampered by deteriorating relationships with quarterback Robert Griffin III and owner Daniel Snyder. Griffin, the No. 2 pick in the 2011 draft, was shut down three weeks ago in an attempt to protect his surgically repaired knee.
"We are going to take a smart, step-by-step approach to finding the right coach to return the Redskins to where we believe we should be," Redskins General Manager Bruce Allen said in a statement. "We will analyze accurately and honestly all of the decisions that were made over the past year."
Frazier, who took over for Brad Childress during the 2010 season, went 20-32-1 with the Vikings, taking the team to one playoff appearance, in 2012.
"Unfortunately, we did not achieve consistent success and did not achieve the progress we expected," Vikings General Manager Rick Spielman said.
Schwartz, 47, leaves Detroit with a 29-51 record and one playoff appearance over five seasons.
New York Jets owner Woody Johnson said two days ago that Rex Ryan would be back for the final year of his contract after the team finished 8-8. Ryan's status was in question after John Idzik was brought in as general manager during the offseason to replace Mike Tannenbaum, who was dismissed after New York went 6-10 in 2012.
"We have a young team that is on the ascent, that is going to get even better next year," Johnson told reporters. "We've got another year with Rex and his staff and I think it's really going to be good."