Central African Republic's Bangui Out of Control, MSF Says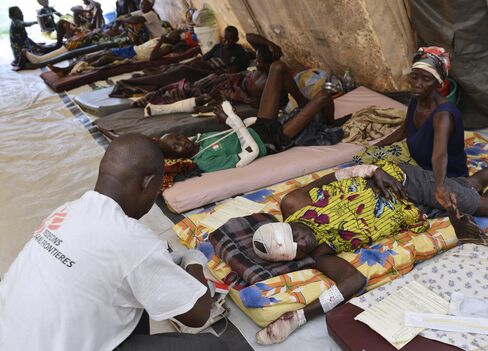 Dec. 31 (Bloomberg) -- Violence in the Central African Republic's capital, Bangui, is "out of control," with fighting between Christians and Muslims resulting in lynchings and machete attacks, Medecins Sans Frontieres said.
Since early December teams working in several medical projects in Bangui have treated more than 1,000 victims of violence, the medical humanitarian organization founded in France in 1971 and known as MSF, said in an e-mailed statement yesterday.
"People are coming in with machete wounds to the head, hands and arms," Laurent Sury, emergency coordinator of MSF in Bangui, said in the statement. "We've also seen people who have been stabbed, sometimes multiple times, in the abdomen, and people who have either been tortured or brutally beaten. For the most part, these are young men."
The Central African Republic was plunged into lawlessness after rebels overthrew Christian President Francois Bozize in March and Michel Djotodia, a Muslim, was appointed as national leader.
Fighting between militia from the Christian majority and Muslim rebels flared up on Dec. 5. Some 370,000 people, almost half the population of Bangui, have been displaced over the last three weeks, the United Nations' Childrens Fund, or Unicef, said in an e-mailed statement yesterday. About 785,000 people have been internally displaced throughout the country since the outbreak of violence more than a year ago.
Beheaded Children
Unicef said it has verified the killing of at least 16 children including two that were beheaded.
Health facilities have also been affected by the violence, MSF said. An armed man entered a dispensary, medical teams were forced to temporarily evacuate a hospital and Ministry of Health staff were threatened, MSF said.
"The atmosphere is becoming increasingly tense with each of these 'visits' as the attackers become more and more aggressive," Thomas Curbillon, MSF's head of mission in Bangui said in the statement.
The UN's World Food Programme today appealed for $107 million to assist 1.25 million people over the next eight months in the country. Since Dec. 5 the group has assisted 237,000 people in the country, mostly in Bangui.
"We are providing food for hungry people wherever we can," Denise Brown, the WFP's West Africa regional director, said in a statement. "Insecurity is the biggest challenge."
To contact the reporter on this story: Rene Vollgraaff in Johannesburg at rvollgraaff@bloomberg.net
To contact the editor responsible for this story: Antony Sguazzin at asguazzin@bloomberg.net