A Boeing Contract Fractures Its Biggest Union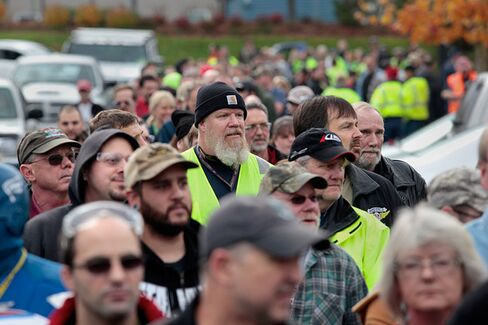 A second vote on a contract aimed at keeping Boeing's 777X project in suburban Seattle has caused a deep rift between local and national leaders of the largest aerospace workers union.
About 30,000 members of the International Association of Machinists & Aerospace Workers District 751 will vote Friday on a revised contract Boeing proposed earlier this month. The vote was scheduled by the national IAM, based in Maryland, and local leaders have made it clear they consider the proposal substantively unchanged from the contract their members soundly rejected last month. The local union has scheduled a "solidarity rally" (pdf)" in Seattle a day before the vote to stoke opposition and help defeat what it calls a "takeaway offer." Others are angry that the national union set the vote during a week when many machinists—most of them senior workers who are unlikely to support the contract—will still be out of town on holiday vacations.
In talks in mid-December, Boeing offered an extra $5,000 bonus, atop the previous $10,000 signing bonus, and extra dental benefits and retained the current rate to achieve the top pay scale, six years instead of the earlier proposal's 16 years. The major sticking point (pdf), however, remains Boeing's demand that workers migrate from a traditional pension to a defined contribution, 401(k)-style plan in late 2016.
"We are faced then with a choice to destroy everything that we have built over 78 years in order to save Boeing from making a decision that puts the future of the company, all its employees (union and non-union alike) and the stockholders at risk," District 751 President Tom Wroblewski wrote in a letter to members. "If the company chooses this path of destruction, then they are responsible for it. We, as union members, do not have control over it and have a contract in place through 2016."
Some in the Puget Sound area have suggested that the national union is more interested in securing dues-paying members than in assessing the contract's merits. The local union paid $25.5 million in dues to the national last year, the Seattle Times reported. "The theory that this is a way to preserve IAM jobs (and therefore membership) of IAM's largest District certainly seems plausible," Scott Hamilton, an aviation analyst with Leeham Co. wrote Monday in an e-mail. "I certainly can't think of another reason, and I'm sure International is hardly altruistic."
But others say that local union members, and their leadership, fail to recognize that the 777X debate is fundamentally different from past contract negotiations because Boeing is ready—if not exactly eager—to move the entire project to another state where its labor expenses will be lower, even if it encounters higher costs due to an inexperienced workforce. And Boeing's migration of such a large jet program would likely ease the path for it to move future airplane assembly work out of the region.
Boeing is reviewing proposals from 22 states that hope to land the manufacturing work on the new jumbo jet, a replacement for the company's popular 777. The 777X will be a more efficient version (pdf) of the current model, with a redesigned, expanded wing and new engine technology. The 777X has quickly become a top seller in Boeing's commercial airplane portfolio.
Before it's here, it's on the Bloomberg Terminal.
LEARN MORE