Saudis Seek to Extend Influence-Buying With Lebanon Arms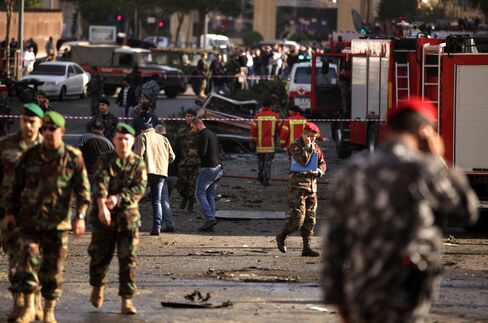 Saudi Arabia's decision to send $3 billion of military aid to Lebanon's army is the latest sign of an increasingly assertive foreign policy that seeks to buy regional influence and counter Iranian power.
Saudi Arabia is spending billions to support its allies, and funneling money to confront its enemies, so far with little success in achieving either. The Arab world's largest economy has stepped up assistance to allies across the region, including $5 billion to the Egyptian authorities who overthrew President Mohamed Mursi, growing support for mainly Sunni rebels battling Syrian President Bashar al-Assad and $3.25 billion for Yemen last year.
"Simply writing checks will not resolve deep-rooted causes of instability, especially in Yemen and Lebanon," said Paul Sullivan, a Middle East specialist at Georgetown University in Washington. "The $3 billion to Lebanon is to buy arms. This could lead to increased instability in that area depending on how the arms are used."
Lebanon is being destabilized by the sectarian conflict in Syria, which has become a proxy war pitting Saudi Arabia, the Gulf's leading Sunni power, against Shiite Iran and its proteges such as the Lebanese Hezbollah militant group. In Egypt, military targets are regularly attacked as violence escalates since the army toppled Mursi in July. Security in Yemen's capital Sana'a has deteriorated as al-Qaeda continues to attack government targets, raising concerns that Saudi Arabia's southern neighbor could become a failed state.
Car Bomb
Tensions between Sunni Muslims and Shiites in Lebanon have become especially acute because of the conflict in neighboring Syria, and are reviving concerns that the country may slip back into a civil war as tit-for-tat sectarian attacks intensify.
A car bomb killed former Finance Minister Mohamad Chatah, a Sunni Muslim and a member of a Western-backed coalition, in Beirut on Dec. 27. Other attacks targeted Lebanon's militant Hezbollah group, the Iranian embassy and supporters of Assad.
Saudi Arabia offered assistance to support Lebanon's army so it can protect the country from the threat of "sectarianism and extremism," Lebanon's President Michel Suleiman said yesterday. "Strengthening the army is a national and popular demand of everyone," he said in a televised speech.
'Important Gaps'
Lebanon will use the aid to buy arms from France, Suleiman said, adding that he hoped "Paris would accept this initiative quickly." The assistance was discussed by Saudi King Abdullah Bin Abdulaziz Al Saud and French President Francois Hollande in their meeting this week in Saudi Arabia, Suleiman said, according to the country's National News Agency.
Lebanon will likely get defensive weapons, and arms that aren't a threat to neighboring Israel, retired Lebanese General Hisham Jaber, who served as military attache to France in the 1990s, said. The arms "will fill important gaps," he said.
Some of the French companies likely to benefit from the deal are government-owned Nexter Systems SA, which makes assault rifles, armored vehicles, and Eurocopter, which makes helicopters and is a unit of EADS, according to Jaber. Thales SA, which makes communications systems and MBDA, which makes anti-tank missiles, may also provide weapons to Lebanon.
Tighter Convergence
France and Saudi Arabia support "the Syrian opposition, which seeks to establish democracy and peace," Hollande said during a press conference in Riyadh on Dec. 29, as cited by the official Saudi Press Agency. The two countries have "agreement and identical positions on Lebanon's affairs," he said.
A convergence of Saudi and French interests in Syria and Lebanon "is leading to a tighter alignment between the two," Austin, Texas-based consulting firm Stratfor said in an e-mailed report today. France has "deep historical linkages" and has been "the most ardent" Western supporter of Syrian rebels, it said.
"It is too early to tell whether the Saudi-French partnership will achieve its goals, but their joint effort will undoubtedly aggravate matters in Lebanon, and the wider war in the Levant will continue to intensify," Stratfor said.
Saudi aid seeks to "counterbalance a long and deep Iranian investment in the Middle East and to compensate for the American withdrawal from the diplomatic scene" after its decision not to attack Syria in September, said Sami Nader, a professor of international relations at Beirut's St. Joseph University.
Sectarian Mosaic
The arms will bolster Lebanon's army and so counter Hezbollah's argument that it can't disband before there's a strong central military that can protect the country, Nader said. "A strong army is a strong state, a strong state is at the expense of any internal militia."
Still, the Lebanese army reflects Lebanon's sectarian mosaic of Christians, Shiites and Sunni Muslims, and in Tripoli it has failed to halt sectarian battles.
Even if the army gets more weapons, "it can't do much without political cover," said Riad Kahwaji, director of the Institute for Near East & Gulf Military Analysis in Dubai.
Saudi Arabia, which has historically acted behind the scenes in the Middle East, has adopted a more activist and public diplomatic approach in the past year. Saudi officials were particularly incensed when the U.S. decided not to attack Assad's Syria after chemical weapons were used in the country in August. Some royals have also expressed doubts about the Iranian nuclear accord negotiated with six outside powers, including the U.S., last month, even as the official response was cautious.
Arab Uprisings
The conflict in Syria began in March 2011 with peaceful protests, part of a series of uprisings that swept rulers of Tunisia, Egypt, Yemen and Libya from power. Saudi Arabia and the U.S. negotiated to end 11 months of protests in Yemen two years ago and led a push for donors to provide $6.4 billion in aid to the poorest country in the Middle East. The kingdom also provided Egypt with financial aid after Mursi's removal.
"Yemen is a basket case," Sullivan said. "The Saudi money might help to bolster the present government, but the causes of its instability are far more complex and deep rooted than a few billion could resolve. Egypt's sources of potential instability also cannot be cured by throwing money at them."
Senior Saudi royals, including Prince Turki al-Faisal, the former head of the kingdom's intelligence department, and Prince Mohammed bin Nawaf bin Abdulaziz, Saudi Ambassador to London, have called for a more pro-active Saudi approach to regional developments.
"We believe that many of the West's policies on both Iran and Syria risk the stability and security of the Middle East," Prince Mohammed wrote in the New York Times on Dec. 17, "This is a dangerous gamble, about which we cannot remain silent, and will not stand idly by."
Before it's here, it's on the Bloomberg Terminal.
LEARN MORE