Merkel Says Balanced Budget, Energy Take Priority in Third Term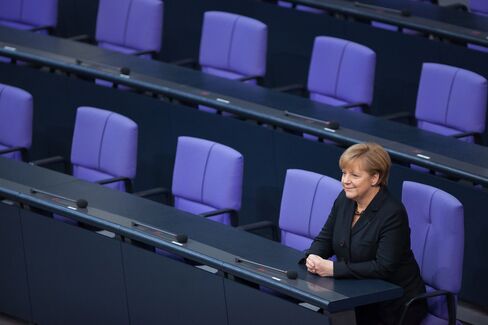 German Chancellor Angela Merkel said eliminating the budget deficit and completing the country's transformation from coal and nuclear energy to renewables are the priorities of her third four-year term.
"Especially important to me is that we hand our finances over to the next generation in an orderly way" and "that we bring the energy switch to a successful conclusion," Merkel said in her New Year's speech, prepared for delivery later today, that was e-mailed in advance to reporters.
While Germany is doing well amid tough global competition and more people than ever have a job, the nation's progress depends on advances in Europe and overcoming the government debt crisis plaguing the continent, Merkel said.
Merkel, who was sworn in for a third term on Dec. 17, is benefiting from an economic rebound as she aims to end net new borrowing by 2015. The chancellor is bound by constitutional rules to balance the budget by 2016 and by European Union pledges to start cutting the national debt to 60 percent of economic output from about 80 percent today.
"Out of a dream of few and through the efforts of many, Europe has become a place of peace for millions," Merkel said. "This shows once again how much we can achieve when we trust each other and stick together."
Before it's here, it's on the Bloomberg Terminal.
LEARN MORE