Hertz Adopts 1-Year Poison Pill After 'Unusual' Movements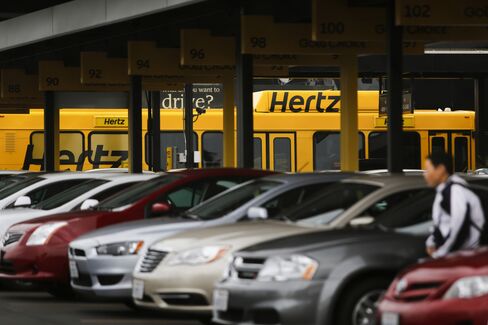 Hertz Global Holdings Inc. rose to a record high after the largest publicly traded U.S. rental-car company said it adopted a so-called poison pill upon seeing "unusual and substantial activity" in its stock.
Hertz shares climbed 10 percent to $28.62 at the close in New York after reaching $28.90. The board voted unanimously for the one-year shareholder-rights plan, which Hertz said wasn't adopted in response to any specific takeover bid or proposal to acquire the company, according to a statement yesterday.
The company detected unusual options activity in recent weeks and suspects more than one activist investor has used options to take a position in its shares, according to two people familiar with the matter, who asked to not be identified because the information isn't public.
Dan Loeb's Third Point LLC has taken a stake in Hertz and doesn't intend to take an activist role, CNBC said, citing sources it didn't identify. Third Point declined to comment.
Under the plan, Hertz will issue one preferred share purchase right for each share of common stock as of the close of business on Jan. 9, 2014. The rights won't be exercisable until 10 percent of Hertz common stock is acquired by one person or group, excluding passive institutional investors, in which case the threshold is 15 percent.
Pricing Power
"We gather 'activist investors' have been accumulating Hertz shares," Michael Millman, an analyst with Millman Research Associates, wrote in a note today that said Hertz and Avis Budget Group Inc. are buyout candidates. "We think activist interest in Hertz has increased in part because Hertz" has lagged behind Avis.
Hertz gained unprecedented pricing power following its $2.3 billion July acquisition of Dollar Thrifty Automotive Group Inc., which consolidated the rental-car industry into three dominant players, analysts have said. A plan by the Federal Trade Commission to increase competition foundered in November when Advantage Rent A Car filed for bankruptcy.
The FTC required Hertz to spin off Advantage after an eight-month review of its acquisition of Dollar Thrifty. The FTC said it was trying to protect consumers who spend $11 billion to rent 50 million vehicles at U.S. airports each year.
Strong Position
Advantage's bankruptcy leaves Hertz in a stronger position to boost revenue and profitability as the No. 2 rental-car company behind closely held Enterprise Holdings Inc. and ahead of Avis. In the last year, the three companies raised prices at a rate not seen since the recession.
Hertz's improving prospects have driven up shares 76 percent this year, while the Standard & Poor's 500 Index rose 30 percent and Avis shares more than doubled.
Hertz, based in Park Ridge, New Jersey, didn't specify in its statement what kind of unusual activity it has observed in its stock.
The poison pill plan is aimed at "reducing the likelihood that any person or group would gain control of Hertz through open market accumulation without appropriately compensating the company's shareholders for such control or providing the board sufficient time to make informed judgments," the company said in its statement.
Hertz also said it has held discussions with a number of investors about enhancing shareholder value. Company management held "constructive" meetings with Keith Meister's Corvex Management LP three to four weeks ago, CNBC reported, citing sources it didn't identify. Corvex owned 0.6 percent of Hertz as of Sept. 30, according to data compiled by Bloomberg.
Desiring Divestiture
Those discussions may have included investors who are eager for Hertz to divest its equipment rental business, Kevin Milota, an analyst with JPMorgan Chase & Co., wrote today in a note.
"We believe that investors have become increasingly focused/frustrated that Hertz has not moved faster with a potential outright sale or spin of that capital intensive business segment," Milota wrote. "If Hertz was to exit the equipment rental business, its free cash flow profile would dramatically increase."
Bank of America Corp. and Barclays Plc are providing financial advice to Hertz. Cravath, Swaine & Moore LLP is the company's legal counsel.
Before it's here, it's on the Bloomberg Terminal.
LEARN MORE