China Approves $353 Million of Share Sales as IPOs Resume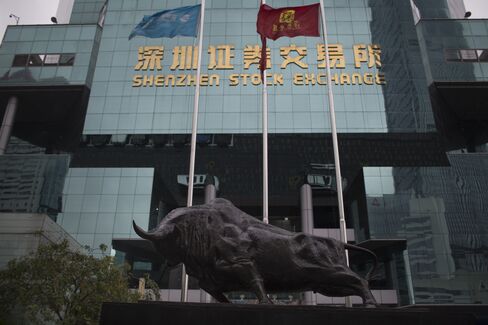 Dec. 31 (Bloomberg) -- China's securities regulator approved the initial public offerings of five companies seeking to raise about $353 million, paving the way for share sales to resume after a freeze of more than one year.
Neway Valve (Suzhou) Co. received approval for a first-time sale in Shanghai that could seek about 839 million yuan ($138 million) and will start marketing its shares early next month, the maker of industrial valves said in statements to the Shanghai Stock Exchange yesterday. Truking Technology Ltd., Guangdong Qtone Education Co., Guangdong Xinbao Electrical Appliances Holdings Co. and Zhejiang Wolwo Bio-Pharmaceutical Co. secured approval to list on the smaller Shenzhen exchange, separate filings by the companies showed.
China, the world's largest IPO market in 2010 with a record $71 billion raised, hasn't had an initial public offering since October 2012 as the securities regulator cracked down on fraud and misconduct among advisers and issuers. Fifty companies are expected to be ready by the end of January, the China Securities Regulatory Commission said Nov. 30 after pledging to move toward a U.S.-style IPO registration system.
"People expected more approvals in the first batch," Du Changchun, a Shanghai-based analyst at Northeast Securities Co., said by phone today. The regulator "will probably need to speed up the process, if the target of 50 is to be reached by end of January."
IPO Backlog
It will take about a year to clear the backlog of more than 760 companies waiting to go public, the CSRC said when announcing the changes to the IPO system. Another several companies will likely receive approvals in the next few days, the China Securities Journal reported today, citing unidentified people at the companies.
The approvals come after state-owned China Postal Express & Logistics Co. said Dec. 27 it withdrew its application for a Shanghai IPO as it seeks to adjust its strategy amid heightened competition. The company, China's biggest package shipper, was planning to seek about $1.5 billion, people familiar with the situation said earlier this month.
The ChiNext Index, a measure of small-cap stocks traded in China, fell 0.9 percent as of 11:30 a.m. on concern the resumption of initial public offerings will sap liquidity. The Shanghai Composite Index has declined 6.8 percent this year.
"The IPO resumption is negative for the market," said Wang Weijun, a strategist at Zheshang Securities Co. in Shanghai. "Pricing of the new shares will be the key. If the stocks are still priced very high, IPO reforms will become meaningless and unsuccessful."
Changes to the IPO process announced last month are part of a package of reforms that signaled the biggest expansion of economic freedoms since at least the 1990s. Since May, the CSRC has punished at least three brokerages for inadequate due diligence on IPOs and barred at least 21 bankers, auditors, lawyers and executives from the securities industry.
To contact Bloomberg News staff for this story: Jing Jin in Shanghai at jjin32@bloomberg.net; Aipeng Soo in Beijing at asoo4@bloomberg.net; Zijing Wu in Hong Kong at zwu17@bloomberg.net
To contact the editor responsible for this story: John Liu at jliu42@bloomberg.net