Panasonic Debt Goes to First From Worst on Revamp: Japan Credit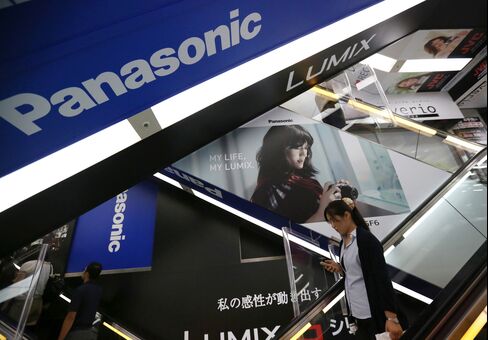 Dec. 25 (Bloomberg) -- Panasonic Corp. bonds went from last year's worst performers to the best of 2013, as President Kazuhiro Tsuga avoided a junk debt rating by shrinking television and handset businesses.
The notes topped the return rankings in the year to Dec. 23, gaining 6.5 percent, after placing last in 2012 with a 4.1 percent loss, Bank of America Merrill Lynch data show. That compares with a 4.1 percent increase for Kansai Electric Power Co., the second-best performer since Dec. 31, and a 1.7 percent average gain for Japanese corporate bonds. Bonds of technology companies worldwide declined 1.3 percent in the period.
Panasonic's honed focus on electronics for running homes and automobiles more effectively was cited by Moody's Investors Service when it upgraded the outlook on the company's Baa3 rating, the lowest investment grade, to stable from negative on Dec. 18. The Osaka, Japan-based manufacturer has cut about 71,000 jobs since 2011 and is shutting down production of plasma televisions to focus on car safety devices, such as 360-degree view camera systems and power packs for electric cars.
"We are seeing results from the first stage of Panasonic's restructuring in such areas as panels and smartphones," said Takao Matsuzaka, a credit analyst in Tokyo at Daiwa Securities Co. "They are putting resources into areas with relatively stable profits."
Profit Forecast
The company doubled its profit forecast in October to 100 billion yen ($958 million) in the 12 months ending March 2014 as it benefits from an almost 17 percent weakening in the yen against the dollar this year and boosts car battery sales.
The yen touched 104.64 per dollar last week, the weakest since October 2008. It fell 0.1 percent to 104.40 yen as of 3:11 p.m. in Tokyo. A currency depreciation tends to boost the overseas income of exporters. Japan's benchmark 10-year note yield rose one basis point to 0.69 percent today, the lowest in the world, as the Bank of Japan buys more than 7 trillion yen of sovereign bonds a month to spur inflation.
Panasonic obtained 48 percent of its 7.3 trillion yen in sales overseas last fiscal year, an increase of 1 percentage point from the previous 12 months, according to a statement.
The manufacturer, which was started in 1918 by Konosuke Matsushita, his wife and brother-in-law in a two-floor house, is halting and selling parts of businesses after racking up total losses of 1.53 trillion yen during the last two business years.
Battery Business
The company is moving away from consumer electronics to focus more on selling housing- and automotive-related products. The supplier of lithium-ion batteries to Toyota Motor Corp. plans to double sales from the businesses to a combined 4 trillion yen by March 2019 through expanding sales overseas and seeking merger and acquisition opportunities. It also won a contract to supply Tesla Motors Inc., the electric-car maker led by billionaire entrepreneur Elon Musk.
Panasonic said on Dec. 20 it is disposing part of its chip manufacturing business to a new joint-venture formed with a unit of Israel-based Tower Semiconductor Ltd. Under the agreement, the Japanese company will sell a 51 percent stake in the operation and close a factory that produces semiconductor lasers, according to a statement.
The manufacturer, which makes Viera televisions and Lumix digital cameras, is aiming to eliminate losses at five businesses including mobile phones and chips by March 2016.
Debt Reduction
"The company has reduced the losses incurred in several of its core businesses -- such as in the TV-related segments -- and made strategic decisions to exit certain businesses," Moody's said in a statement on Dec. 18. "Panasonic can further reduce its gross debt, as demonstrated by the company's ongoing efforts to manage working capital spending and its improving cash flow generation."
Panasonic's total liabilities declined 11 percent to 4.09 trillion yen in the year to March 31, as it reduced long-term borrowings by 30 percent to 663.1 billion yen during the period, according to data compiled by Bloomberg.
Chieko Gyobu, a spokeswoman for Panasonic, declined to comment.
The cost to insure Panasonic's debt against non-payment tumbled 175 basis points this year to 56 basis points as of yesterday, according to credit-default swap prices from data provider CMA. That compares with a drop of 90 to 68.9 for the Markit iTraxx Japan index of 50 companies. A basis point is 0.01 percentage point.
Market Confidence
The tightening default swaps over the past year is "another sign of growing market confidence for Panasonic," Diana Allmendinger, a director with Fitch Solutions, said in a statement on Dec. 20.
Fitch Ratings Ltd., part of the same Fitch Group, rates the company's debt BB, its second-highest non-investment grade. Standard & Poor's ranks Panasonic BBB, the second-lowest investment grade, Bloomberg-compiled data show.
The yield premium on Panasonic's 2.05 percent notes maturing in March 2019 fell to 32.6 basis points over sovereign debt yesterday, from a high of 347.5 basis points in November of last year, according to data compiled by Bloomberg. The company's stock has more than doubled in the past twelve months to close at 1,199 yen today.
Sony Corp., a Tokyo-based competitor, reported a surprise quarterly loss in October and lowered its forecast for TVs, cameras and computers. The company, which is shedding units as it focuses on fewer products, agreed to sell this week its Gracenote audio-recognition software business to Tribune Co. for $170 million.
"Panasonic is different from other consumer electronics companies focused on digital appliances," said Takayuki Tezuka, a credit analyst at SMBC Nikko Securities Inc. in Tokyo. "It's got B-to-B businesses with stable profits," he said, referring to transactions between companies.
To contact the reporters on this story: Finbarr Flynn in Tokyo at fflynn3@bloomberg.net; Grace Huang in Tokyo at xhuang66@bloomberg.net
To contact the editor responsible for this story: Katrina Nicholas at knicholas2@bloomberg.net