U.S. 10-Year Yields Reach 3-Month High as Data Bolster Fed Bets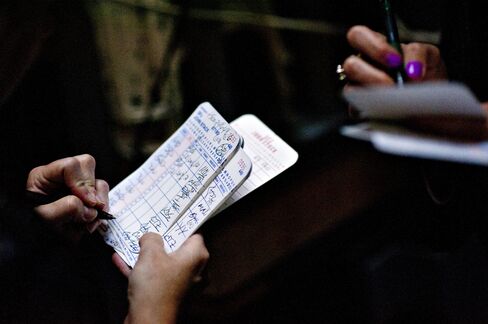 Treasury 10-year note yields reached the highest in more than three months after data showed durable-goods orders rose in November more than forecast, boosting the case for the Federal Reserve to slow bond-buying further.
U.S. government securities fell for a second day as new-home sales exceeded estimates. The Federal Open Market Committee said after its Dec. 17-18 policy meeting it will begin reducing $85 billion in asset purchases next month, citing "growing underlying strength" in the economy.
"Data over the last month have been fairly strong," said Justin Lederer, an interest-rate strategist at Cantor Fitzgerald LP in New York, one of 21 primary dealers that trade with the central bank. "The Fed will continue to cut, although it's always going to be data-dependent. I wouldn't be surprised to see higher yields. It's pretty important to look at 3 percent."
The yield on the benchmark 10-year note climbed five basis points, or 0.05 percentage point, to 2.98 percent at 2 p.m. New York time. It was the highest level since Sept. 6, when the yield touched 3.01 percent, the most since July 2011. The price of the 2.75 percent security due in November 2023 dropped 13/32, or $4.06 per $1,000 face amount, to 98 2/32.
Five-year note yields reached 1.74 percent, the highest since Sept. 13. Thirty-year bond yields advanced four basis points to 3.89 percent.
The Securities Industry and Financial Markets Association recommended a close at 2 p.m. New York time for Treasuries, and that trading stay shut tomorrow for the Christmas holiday, according to the group's website.
Volume Drops
Treasury trading volume at ICAP Plc, the largest inter-dealer broker of U.S. government debt, tumbled 51 percent yesterday to $155.9 billion, the lowest level since Nov. 29, and totaled $85.5 billion at today's early closing. The daily average this year is $310.6 billion.
Yields on Treasuries due in seven years and less may be poised to reverse increases, a technical indicator signaled. The 14-day relative-strength index readings for seven-, five-, three- and two-year notes were all above the 70 level that signals the yields may have jumped too much, too fast, and be about to change direction.
The readings were 73.5 for seven-year yields, 76.3 for five-year yields, 77.1 for three-year yields and 77.7 for yields on two-year securities.
Treasuries' Loss
Treasuries lost 3 percent this year through Dec. 23, according to the Bloomberg World Bond Indexes, while the Standard & Poor's 500 Index of U.S. equities returned 31 percent including reinvested dividends. The S&P 500 closed at an all-time high today for a third straight day.
Bookings for U.S. goods meant to last at least three years rose 3.5 percent after a revised 0.7 percent drop the prior month, the Commerce Department reported today in Washington. Economists surveyed by Bloomberg called for a 2 percent advance. Excluding demand for transportation equipment, which is often volatile, orders also beat projections.
"The durable-goods number was strong, a good indication that the economic contributors to growth are expanding," said Adrian Miller, director of fixed-income strategies at GMP Securities LLC in New York. "One month doesn't make a trend, but it's something the market wanted to see and confirms what the Fed has been seeing that gave confidence for their taper."
Purchases of new U.S. homes were at almost a five-year high in November, Commerce Department data today showed. Sales declined 2.1 percent to a 464,000 annualized pace, following a revised 474,000 rate in October that was the strongest since July 2008. Economists surveyed by Bloomberg forecast 440,000.
'Larger Story'
"This is part of a larger story that the economy is better," said Dan Greenhaus, chief global strategist in New York at BTIG LLC. "The bias in yields remains to the upside. We're coming up on 3 percent on the 10-year. Those levels should be breached" if data continue to improve.
The reports followed Commerce Department data yesterday showing consumer spending rose 0.5 percent in November, the most in five months. A price index for personal consumption expenditures, the Fed's favored inflation gauge, rose 0.9 percent from a year earlier, Commerce Department figures also showed. It has been below the Fed's 2 percent inflation target since May 2012.
Other reports this month showed the U.S. jobless rate fell to a five-year low of 7 percent in November and gross domestic product expanded at a 4.1 percent annualized rate in the third quarter, the fastest since 2011.
Purchase Taper
The FOMC said last week it will cut its monthly purchases of Treasuries and mortgage-backed bonds next month by $5 billion each to $40 billion and $35 billion, respectively. It will slow buying "in further measured steps at future meetings" if the economy improves as forecast, according to a statement.
The central bank will reduce its monthly purchases in $10 billion increments over the next seven meetings before ending them in December 2014, according to the median forecast of analysts surveyed Dec. 19 by Bloomberg News.
Bond investors seeking to avoid the first successive annual losses on Treasuries in at least 35 years are finding shelter in European government debt.
Yields on U.S. 10-year notes are estimated to rise more than a half-percentage point next year to 3.38 percent, which would result in a loss of 1.6 percent, according to data compiled by Bloomberg.
Yield forecasts for Spain and Italy, where borrowing costs soared to more-than-decade highs during the European debt crisis, indicate bond returns in 2014 will extend this year's gains of as much as 11.1 percent.
With the Fed taking its first step last week to unwind its unprecedented stimulus, Robeco Groep NV, Fidelity Investments and Amundi are venturing into developed nations hit hardest by the crisis as confidence builds in European Central Bank President Mario Draghi's ability to safeguard the 17-nation currency bloc.