NYC Mayor-Elect De Blasio's Daughter Reveals Drug Abuse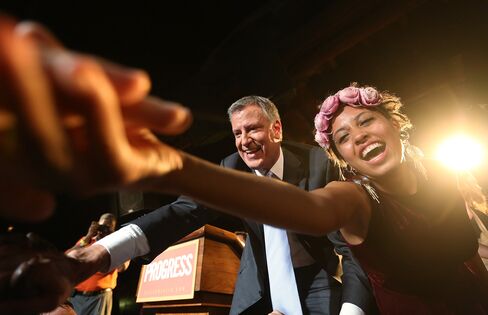 Chiara de Blasio, the 19-year-old daughter of New York Mayor-elect Bill de Blasio, disclosed that she fought depression and substance abuse throughout her adolescence and wants to help others overcome similar problems.
In an almost five-minute video with a musical soundtrack distributed today by the mayor-elect's transition team, Chiara de Blasio, a college student who appeared in campaign commercials for her father, describes her descent into alcohol and marijuana use while struggling with anxiety and depression.
"It didn't start out as like a huge thing, but then it became a huge thing for me," she says, looking directly at the viewer. "When I went to college, I didn't really do the proper mental and emotional work to prepare myself. I just thought all my problems would go away if I just got on a plane and flew 3,000 miles."
The Christmas Eve narrative of her struggle came just six days before Bill de Blasio, 52, is to be sworn in as the 109th mayor of the largest U.S. city and the first Democrat to run City Hall in 20 years. During the campaign, he disclosed that his father, a combat veteran who lost a leg in the battle of Okinawa, never recovered from the trauma and committed suicide after several years of alcohol addiction.
About 28 percent of Americans drink at levels that put them at risk for alcohol dependence, the video states.
"Removing substances from my life, it's opened so many doors for me," including working on her father's campaign, she said in the video. "It's not easy -- by no means is it easy -- it's the hardest thing I've ever done. But it's so worth it."