Japan Refiners to Merge LPG Operations With Sumitomo in 2014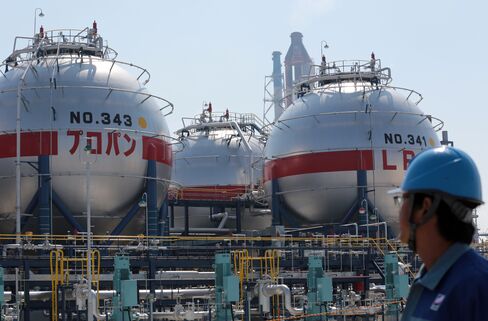 Three Japanese oil refiners and trading firm Sumitomo Corp. said they plan to merge their liquefied petroleum gas import and wholesale operations in a move that would give them the largest share of the market for the fuel in the country.
The four -- the refiners are Cosmo Oil Co., TonenGeneral Sekiyu K.K., Showa Shell Sekiyu K.K. -- plan to reach a basic agreement by June and set up a joint venture by December next year, they said in a joint statement today.
LPG importers are under pressure as demand for the fuel weakens because of energy-saving efforts and competition with electricity and city gas. Demand for the fiscal year ending March 2015 is expected to fall 0.6 percent to 17.5 million metric tons from a year earlier, an advisory panel to the Ministry of Economy, Trade and Industry said in a June report.
The planned venture will have revenues of about 400 billion yen ($3.8 billion) and domestic LPG sales of about 3.6 million tons per year, they said. It would control about 26 percent of Japan's LPG wholesale market, the largest share, Koji Moriyama, general manager of Cosmo Oil's corporate planning department, told reporters in Tokyo today.
The companies haven't decided the size of the stakes they will own in the venture, said Kentaro Take, manager of TonenGeneral's demand and supply division. The Nikkei newspaper reported on Dec. 21 that the four companies will each have 25 percent. It didn't say where it got the information.
Japan imported 12.6 million tons, or 77.6 percent of its LPG requirements, in the year ended March 2012, the Japan LP Gas Association said in a February report. The country's LPG demand peaked at 19.7 million tons in fiscal 1996, according to data compiled by the association.
Separately, Cosmo Oil, Showa Shell and Sumitomo agreed to consider the merger of their LPG retail operations by the end of December next year, they said in a joint statement. The planned retail venture will have sales of about 60 billion yen and 240,000 customers, they said.
Before it's here, it's on the Bloomberg Terminal.
LEARN MORE