Erdogan Fighting Back as Graft Probe Threatens Legacy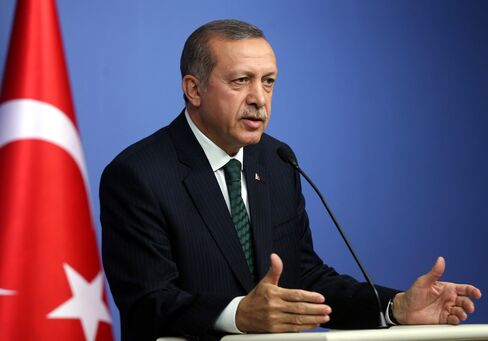 Six months after routing opposition-led protests in the center of Istanbul, Turkish Prime Minister Recep Tayyip Erdogan is now battling the allies who have helped him lead for 11 years.
The power struggle, which saw Erdogan loyalists detained in a graft probe, has divided the police and judiciary and led to the resignations of Interior Minister Muammer Guler, Economy Minister Zafer Caglayan and Environment Minister Erdogan Bayraktar. Its outcome may determine the fate and legacy of the 59-year-old premier, who says he is fighting what amounts to a coup attempt. Bayraktar urged Erdogan to step down, saying the premier signed off on projects mentioned in the probe.
"No one should expect Erdogan to step down, although it will tarnish his image and erode his power," Nihat Ali Ozcan, an analyst at the Economic Policy Research Foundation in Ankara, said in an interview on Dec. 23. "He is still the most popular leader in the country."
The struggle involves allegations of bribery, gold smuggling and money laundering that Erdogan says have been pursued by a "state within a state." Members of Erdogan's ruling party accused followers of U.S.-based imam Fethullah Gulen for the crackdown. The cleric broke with the prime minister this year, rupturing a partnership that sustained the longest period of political stability since Turkey adopted a multiparty system in 1946.
GDP Soared
Under Erdogan, gross domestic product more than tripled in nominal terms, inflation fell from more than 70 percent to single digits and the benchmark Borsa Istanbul 100 Index surged more than 700 percent. While he has promoted a development agenda that could have created a legacy to rival that of Mustafa Kemal Ataturk, the founder of the modern state, foreign-policy setbacks in Syria and Egypt as well as mounting opposition at home and a slowing economy have drained some of his authority.
The corruption allegations are the most serious challenge to Erdogan's Justice and Development Party since hundreds of thousands of people took to the streets in weeks of violent protests that roiled the country in June over redevelopment of Istanbul's Gezi Park.
Since police began raiding houses or offices of those alleged to be involved in the corruption on Dec. 17, the Borsa Istanbul 100 has declined 6.8 percent, the lira weakened 2.5 percent to record lows against the dollar and euro and the yield on Turkish two-year benchmark bonds surged by about 80 basis points.
'Dirty Game'
So far, a court has charged and jailed more than a dozen suspects, including Suleyman Aslan, chief executive officer of state-lender Turkiye Halk Bankasi AS, as well as sons of Caglayan and Guler. Construction magnate Ali Agaoglu and Bayraktar's son were released pending trial.
Bayraktar said he was pressured into resigning. "Most of the redevelopment plans were done under orders of the prime minister," Bayraktar said. "I believe the prime minister should also resign to relieve the nation."
Caglayan, the economy minister, said in a statement today that he quit "to help expose the truth and to spoil this dirty game, in which my child and my close colleagues were said to be involved." He described the graft probe a "dirty plot against our country, government and party."
The economy and interior ministers resigned hours after Erdogan, addressing hundreds of backers upon arrival from Pakistan late yesterday, said his government would "hold anyone accountable" if they are involved in graft.
Slow Fuse
"The probe will last at least two to three years and soon new bombshells will be added to the existing and very damaging allegations," Atilla Yesilada, an economist at New York-based consultancy GlobalSource Partners Inc., said in an e-mail from Istanbul Dec. 23. "This is a very slow-burning fuse."
Turgev, an education foundation run by Erdogan's family, was named at least twice in the corruption probe, Cumhuriyet newspaper reported Dec. 20, without saying how it got the information. Board members include Erdogan's son and daughter, other relatives and officials from his AK Party.
The premier will announce revisions to his cabinet after meeting President Abdullah Gul, state-run TRT television reported Dec. 24, citing Gul. He may replace more than 10 ministers, Hurriyet newspaper said today, without citing anyone. The government has dismissed hundreds of police chiefs and officers since the probe, as Erdogan sought to root out those leading the corruption investigations.
Burnish Image
"The reshuffling of police and bureaucrats is aimed at exerting more control over the state," said Ozcan. "The expected cabinet change will provide an opportunity to Erdogan to cleanse his government's image.'
Companies that are members of a business group tied to Gulen plunged in Istanbul Dec. 23 amid speculation that the prime minister is regaining the upper hand in the struggle. The prosecutor's office shared evidence with parliament related to ministers Guler, Caglayan and Bayraktar, as well as European Affairs Minister Egemen Bagis, Hurriyet said Dec. 19, citing the prosecutor's office.
The probe challenges Erdogan's claims that he has cleared Turkey of graft. It comes as he's trying to shore up domestic support three months before local elections and eight months before presidential polls. The initials of Erdogan's Justice and Development, or AK, party mean ''clean" or "pure" in Turkish. It swept to power in 2002 after a financial crisis revealed rampant corrupt lending at the nation's banks.
Notice Needed
In a move to avert additional surprises, the government as of Dec. 21 began requiring police and paramilitary police to inform security and administrative superiors as well as the chief prosecutor's office before opening an investigation. Turkey's Union of Bar Associations filed a case against the regulation Dec. 23, citing the potential for political interference in the legal process.
"The government is trying to cover up corruption allegations by dismissing policemen and mounting pressure on the judiciary," Sami Yilmazturk, an official of the Union of Chambers of Turkish Engineers and Architects in Istanbul, a group that led Gezi protests, said by telephone Dec. 23. "The judiciary's independence has been impaired by the government."
The chief prosecutor's office also urged the country's broadcasting and Internet watchdogs to take action against violation of the probe's secrecy as leaked graft allegations spread.
Bribery 'Like Cancer'
"Bribery in the state is like cancer in human body: it will engulf the whole body and will cause the country to collapse unless precautionary measures are taken immediately," Tuskon, the Gulen-linked business group, said in a statement Dec. 23.
Gulen's so-called "Hizmet" movement, having its own media, universities, research institutes, and businesses and followers in the bureaucracy, "appears to be the only force that can challenge Erdogan," said Soner Cagaptay, director of the Turkish Research Program at the Washington Institute for Near East Policy, in an e-mail Dec. 20.
"There is an obvious treason here," Erdogan told his backers in the Black Sea city of Ordu Dec. 21. "We will settle this treason and this activity of spying through law and the ballot box."
Erdogan "will not suffer much of an impact in local elections," Yesilada said. "But the mudslinging between AKP and Hizmet will progressively disillusion the conservative constituency, compelling them to seek other political alternatives."